DD #29 – Roadmaps while we're road tripping.
The Digital Directive is back for the 29th edition and we're up to some big things this week. We're diving into company roadmaps once again, to uncover their importance, the different kinds of roadmaps that exist, and how you can start implementing them moving forward.
In other news, our team is on the move! We're headed down to a partner meetup at monday's Miami office to give a presentation on our journey to Channel Partnership with monday.com.
Fun fact: Did you know CarbonWeb is the only partner to be promoted from referral partnership to official monday.com Channel Partners!?
After we leave Miami, our executive team is off to Tel Aviv to touch down in the hometown of monday.com to keep building relationships so we can continue bringing you the latest and greatest on all-things workflow & monday.com.
Follow us on LinkedIn to stay tapped-in while we're traveling. Now for the reason you're reading… Let's dive into roadmaps!

The different kinds of Roadmaps
Product Roadmaps – Are detailed plans of how a company will develop its product or solution. Shared internally and with customers, they are the guidelines of what to expect down the road.
Company Roadmaps – Outline the future of the company, and paint a picture of what the company plans to accomplish within that period of time.
Employment Roadmaps – Sometimes called onboarding roadmaps, these outline employee's journey starting a new role, and that glimpse into their future growth opportunities.
CX Roadmaps – A customer experience (CX) roadmap is a tactical blueprint that highlights which CX initiatives to take and when.
When you start thinking about roadmaps, I'm almost positive you'll think of more types that are applicable to your business operations.

What's next? Create & update!
Now that you know what roadmaps are, it's time for you to build one out and make sure to update it continually. There are a lot of different ways to create a roadmap, on paper, in excel, but if you're already on monday.com then you have the tools at your fingertips to create one helluva roadmap.
Here's what you need to do on monday:
First, decide what kind of roadmap you need.

Second, create a new board. (Need a template? Use this one)

Next, Outline your different groups. (Think phases, completeness or types, as different ways to segment groups.)

Then, enter the different core objectives, tasks or desired accomplishments as items.

Now, use a timeline, or gantt views on the board or in a dashboard to gain your visual roadmap as seen below.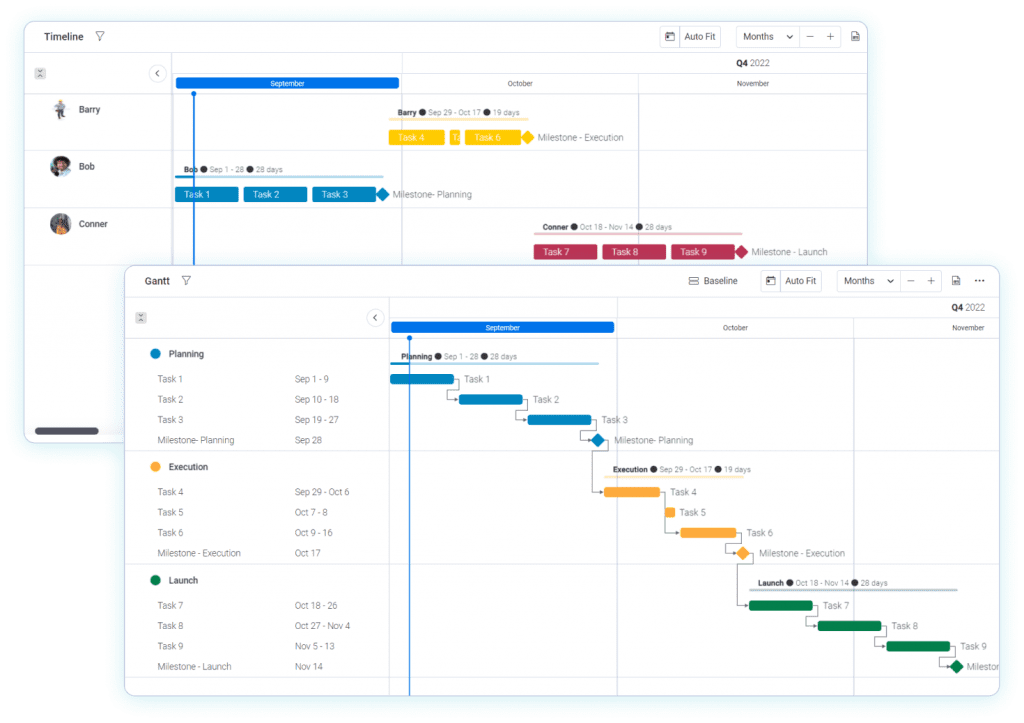 Lastly, be sure to continually update this board, staying true to deadlines, and don't be afraid to mark something as past/overdue. This helps you learn for the future and understand how to better estimate time down the line.

What you need to know about roadmaps… Why are they important?
A better question might be, why don't you have a company roadmap? Without a company roadmap, how do you know what's next for the company? Without a plan for your company's future, your business will only grow as big as the last idea.
1.) Internal motivation for your team
Employee turnover rates have been increasing since 2020, according to the Congressional Research Service. This means we need more ways to keep staff engaged and bought into the mission. Giving your employees meaningful work is essential, and with roadmaps, your employees can actually look forward to the company's future.
2.) Improves your current customers' experiences
Roadmaps allow you to show your customers what's to come; some companies even let you vote on what's next, allowing you to push desired feature requests to the top of the list. You'll ever receive is from your least happy customers because they're brutally honest.
Bill Gates said it best, "Your most unhappy customers are your greatest source of learning." So connecting with your unhappy customers, receiving feedback (even if it stings a little), and having a way to reflect their input to your company is essential.
3.) Allocating resources accordingly
Money, time, tools, and people, are all things that you have to balance. Having a roadmap will allow you to allocate resources accordingly and help you plan your company's future without putting a strain on your team.
4.) Projections + Growth Planning
Growing your company is essential and having a plan in place is vital. Roadmaps serve as the outline for the future, sometimes, they're a few months long, and other times they're a year or more. Having this outline makes projecting your growth and planning for it much more manageable.
5.) Attract new customers
When customers search for something new, especially with products, they want to know what's coming next. Should they buy this model or wait a few months? Maybe you have plans to begin offering a new service; a roadmap will have a line of people ready when you start offering it.
Another example is someone is waiting until your software has a particular feature before they make the big switch. With a roadmap, you can confirm to new customers that these features are coming and even give them time to offer suggestions or feedback. Maybe the roadmap is enough to get them on now, knowing their desired feature is only a few months away.
Keep spreading the word!
If you have questions about apps, wondering the best way to build a workflow, or have ideas for a topic you want to see covered in a future Digital Directive, feel free to share 'em with us!

Have a friend that needs some digital direction? Share this link: https://www.carbonweb.co/digital-directive/?utm_source=digital-directive&utm_medium=referral