DD #10 – Optimizing your monday.com structure
Welcome to the 10th edition of the Digital Directive; we're digging deep into your Work OS and talk about optimizing your monday.com structure.
There's a lot that goes into having the perfect setup on monday and establishing systems that are built to last. This week we're creating a helpful guide to share anytime you've got a new person on the team, but we're sharing parts of it early with all of you subscribed here to the Digital Directive!

But First, For Admins
Hey Admin, do you know how much customization you have at your fingertips? Now depending on your account type, some features may be exclusive to higher tiers.
1.) You can add your own branding to your account.
If you haven't already, this is a great way to make your account feel more like your own.
Main menu Icon
Workspace Icons
Workspace Banners
Account Email header
2.) Use and customize colors throughout your account
Standardizing the use of color in your account will help any user traverse your Work OS easier.
Customize folder name colors
Create status defaults in your account settings like the green "done" status
Colorize groups (which I'm sure you know already)
3.) Keep your account free of unused boards
Inside the Admin panel, the Tidy Up tab will show you the last time boards in your account have been visited based on the longest period without a visit. You can archive boards directly from here or navigate to them to decide if they're worth saving.
4.) Do you have apps installed? Check if they're up-to-date.
Inside the Admin panel, click the App tab (puzzle piece icon); this will show you all the apps installed in your account. Here you can check for updates (and queue updates), uninstall, check your billing, and generally manage all your apps.

The BEST quick overview for new monday.com users.
Copy this and share it with your teammates, new or old. This is a great way to refresh your monday.com know-how (stay tuned for the full guide.)
Items
­Above all else, items are the foundation of monday.com. Determining the items on your board determines the meaning of your board and how you will use it. Attached to items can be sub-items, which are identical in functionality, but just a level below standard items.
­Columns
­Columns are what bring a board to life, allowing you to organize information however you need, just like excel or google sheets. There are over 30 different column types on monday.com, and on a pro plan, you can have up to 200 columns and 300 on enterprise accounts!
Groups
­Groups are your in-board organization. Think of groups as a segment of a list, a tier of service, or steps in your system. Groups are for maintaining the organization of your items within a specific board.
Boards
­Boards are your sandbox for creating your ideal work environment. This is where you combine all the features mentioned previously to create the visual system you need for the task at hand. There are a lot of features and functionality attached to boards, mainly board views, which manipulate your data into different visualizations, providing a tailored work experience.
Folders
­Folders are awesome for keeping your boards organized within your account. Folders are created inside of Workspaces, creating ways for you to structure your Work OS to the best of your ability.
Workspace
­Workspaces are the top level of monday.com, which can store boards, dashboards, and work docs all directly inside, or use folders to further organize.
Teams
­On monday we can use the "@" to tag our teammates in conversation. Additionally, with teams, you can notify or tag all of your team members by simply using @teamname in an update or comment. Teams can be used to set and control permissions and access within accounts and is a great way to structure accounts further.
Accounts
­One account should always be used for an entire organization. This helps prevent the siloing of information, allows you to create more integrated systems, and improves the overall efficiency from a user and management perspective. Check our previous directive on information silos.
There are few circumstances where an organization should have multiple accounts, mainly due to compliance issues where specific information NEEDS to be locked down and unaccessible by the majority of users.


Here's 5 things you can optimize right now.
We've touched on various parts of the platform; below are five things you can go do right now to optimize your monday.com account.
1.) Standardize the naming of your boards – By doing this, you will be able to set precedent for your teams, enabling you to keep a very organized and easy-to-navigate account. Using Ctrl+B you can access Quick Search functionality to find boards easier.
2.) Check and update your apps – Developers on monday are very active when it comes to releasing app updates. Right now, there isn't a great way to notify users on-platform that they're due for an update, so this is our way of reminding you to check your Admin Panel.
3.) Customize board item names – This is a relatively small impact on the overall system, but having item names relevant to the board will help your team logically navigate their processes.
4.) Create a guide for your monday account – This may seem redundant as you already have a grasp on your system, but think about the newbies that join your team; giving them a quick-start guide to using and navigating your account will put them weeks ahead when they start. (Stay tuned for a template we'll share in an upcoming directive!)
5.) Create account usage guidelines – The best way to create uniformity is to set SOPs (standard operating procedures) for your team within monday, whether that be a template for leaving updates, rules for using specific boards, or anything you deem as necessary to follow.

We've hit 150+ Downloads!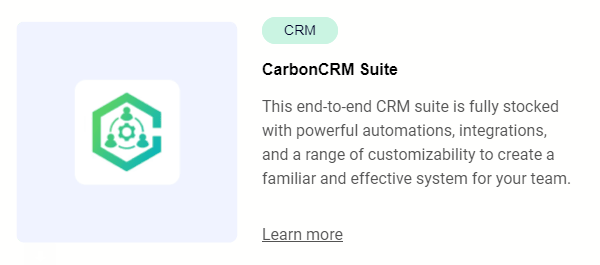 ­The CarbonCRM Suite has surpassed 150 downloads and we couldn't be more thrilled!
We want to hear your feedback on the CarbonCRM Suite. Get it free for 14-days here, or schedule a personal demo with the button below!
The Digital Directive is expanding!
We're preparing to expand the Digital Directive to showcase apps, workflows, templates, tools, and more from others in the monday.com community.
Are you proud of your monday account? Think you've built the perfect workflow that you want to show-off to others? Have an app that's making a difference in your workflow? Have an automation that others would love?
We want to know about it so we can show you off!
Click the button below to get featured!
­
Have a friend that needs some digital direction? Share this link: https://www.carbonweb.co/digital-directive/?utm_source=digital-directive&utm_medium=referral