DD #27 – Optimize your appointment scheduling
Welcome back to another edition of the Digital Directive! This week we're discussing appointment scheduling workflows or lack thereof.
Either way, we've got some insights and digital direction to share today, plus a deal exclusive to Digital Directive subscribers!

What do you need in an appointment workflow?
When it comes to setting appointments, booking meetings, and scheduling calls, having an easy-to-use tool is imperative.
Once you have a tool in mind, building out an appointment workflow is just as essential. We all spend too much time doing everything but the meeting, and that's where workflow automation comes in.
To build your digital appointment workflow, here's a brief checklist:
Software – To bridge the gap between calendars and eliminate needless back and forth.
Integration – To funnel your appointment data into monday.com.
Database – To track and manage every appointment all in one place.
Reminders – To ensure you see every booking and guarantee that everyone shows up. (on-time)
Dashboard – To view and track success, performance, and other important KPIs.
Automation – To do all the little things, save you time, and standardize your entire process.
This isn't all; what happens after your meeting ends? Do you type out the next steps in an email?
Having a system in place with automations to move items, send next-step emails, schedule follow-ups, and hold you accountable will ensure you make the most of every new meeting and never miss another promising opportunity. No one wants to be the person you forgot to follow up with.

What do you need in an appointment workflow?
Whether it's a meeting with clients, prospects, or team members or even just setting out time for administrative tasks, scheduling has always been crucial to business operations.
In the US alone, there are 17 million business meetings every day.
Without an up-to-date and user-friendly system for digitally scheduling these appointments, you are just as likely to spend time searching for and squabbling over meeting rooms as you spend time using them.
The typical Professional spends roughly 31 hours in meetings each month!
Even if it takes some time by itself, when you factor in the time required to arrange and select the meeting location, send invitations, prepare reminders, and more – the hours quickly build up. On the other hand, since meetings are unavoidable, the solution is to spend less time scheduling them. Continue reading →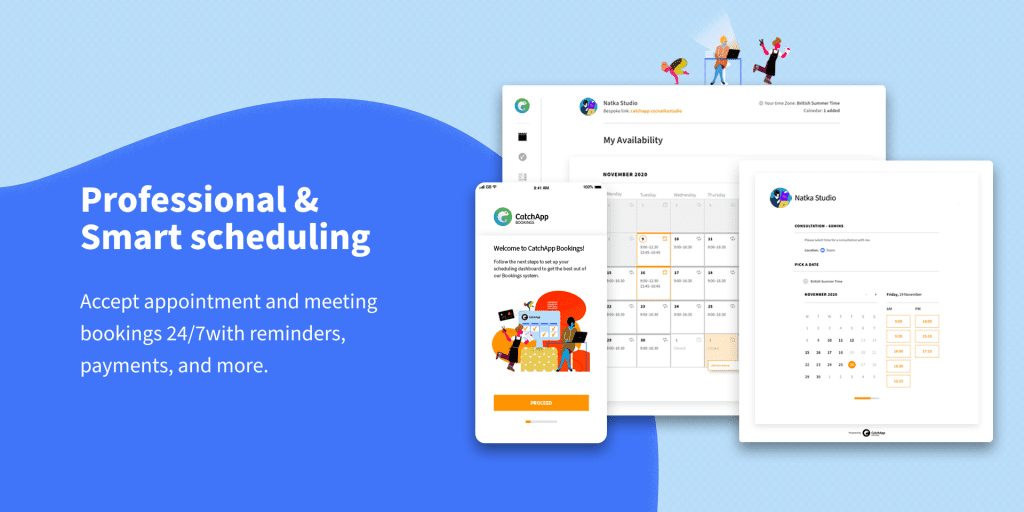 Appointment Scheduling native to monday!
If you're already on monday.com, you've got options for appointment scheduling! Have a look at CatchApp, a simple-to-use appointment scheduler native to monday!
Packed with features, CatchApp hits the nail on the head for all the must-have functionality needed in an appointment scheduler, like two-way sync with all major calendars and conferencing tools. Use built-in email and SMS reminders to help reduce the number of no-shows in your pipeline. There's all that and more, plus a slew of upcoming features currently in development.
Choosing an appointment scheduler is no small task, but finding a company that provides support is even harder. The CatchApp team has a personal approach to onboarding, and they take great pride in their hands-on support. Get all this and more native to your Work OS and accessible through the monday.com app marketplace.
Have a scheduler already? So what! You can try CatchApp free for 14 days!
Or
Grab a 1-year subscription for 50% off on us! Use code: DD50% here.
Discount valid until the end of February
­
Something extra 🦙
Are you a power user on monday, or a llama lover? We've got the perfect thing for you!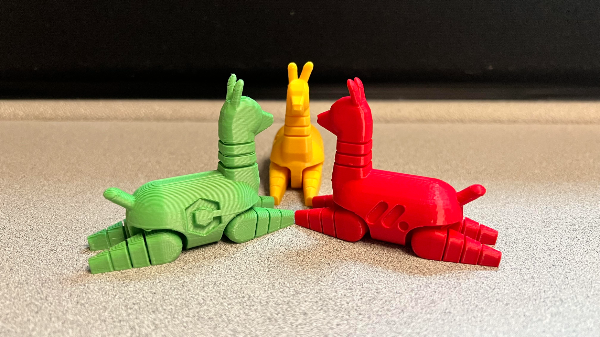 If you're interested we've got these lovely Llamas here, looking for new homes, preferably a desk or shelf to sit on and remind you to check your monday boards.
For now, they're 100% free to you, just send us a picture of where it ends up, or tag us on socials!
If you're interested, you can fill-out an order form here!