DD #19 – Guest Users in your monday.com account
We're back with the 19th edition of the Digital Directive; let's talk about guest users in your monday.com account.
When it comes down to it every business, organization, or company uses monday a little differently. But how deeply are you using the guest access abilities you have within your workflow?

Add guests to your account!
Hey, Digital Director!
Did you know you can have guest users in your monday account? What is a guest, you ask?
Guests are external users of a monday account. Being a guest user is a great way to collaborate with a team without being a part of their entire account. This means you aren't paying for the additional seat, while certain account types allow for unlimited guests, others plans do have a limit.
Guest access is controlled by inviting them only to specific boards and dashboards that are relevant to their workflow, instead of having full access to explore all the workspaces available. This is great for companies who may not need someone to have full access but still requires some visibility into the information on monday.

Here's how others are using guests in monday.
As mentioned before, everyone uses monday differently, and the way they allocate guest access differs as well.
­
­Clients as guests
­
Adding clients as guests in your monday account can be a great way to maintain and grow a relationship, while also providing better access to information surrounding services performed. We host a monday board for every website we've performed SEO on. This allows clients to see the content, rating, and optimizations scores, while giving them a place to request edits, and provide feedback.
­
­Freelancers as guests
­
Given you pay per seat for monday, not everyone on your team would warrant having full permissions and privileges. You can use guest access to enable freelancers into specific boards in a workflow without paying for their access.
­
­Partners as guests
­
Maybe you are working on a project with another company… Adding members of your partnered company as guests can be an easy way to cutdown on information silos, and streamline your communication on a specific project or tasks.
­
­Part-timers as guests
­
Perhaps you run an in-person business and want to keep track of employee in-out times but don't want to use a punch card or other employee tracking software. With guest accounts, you could create a board to track employees' in-out times with a button and time tracking column. Given these employees wouldn't need access to the operations of the business, adding them as guests would be ideal.
­
­Service Provider as guests
­
Let's say you're using another company's services but want to track their work in your monday account. You could create a workspace where your service provider can track, record, and communicate with you directly inside of your account and add their PM as a guest, so you're never in the dark about progress.
­
­Vendors / 3rd Party Companies as guests
­
Maybe you are an events planner and have a database full of your go-to vendors and 3rd Party companies. With guests, you could add them to your workflow, to streamline the planning process of preparing for your next event.

PhoneBurner 2.0 is coming!
We cannot contain our excitement for the overhaul of the PhoneBurner App on monday! We've seen over 500 downloads and tremendous usage so far, and can't wait to hear your thoughts and feedback on the updated user interface and experience!
Here's a sneak peek of one of the biggest additions… A Click-to-dial Item View enabling you to call contacts and track call progress from any board with a phone column in your account!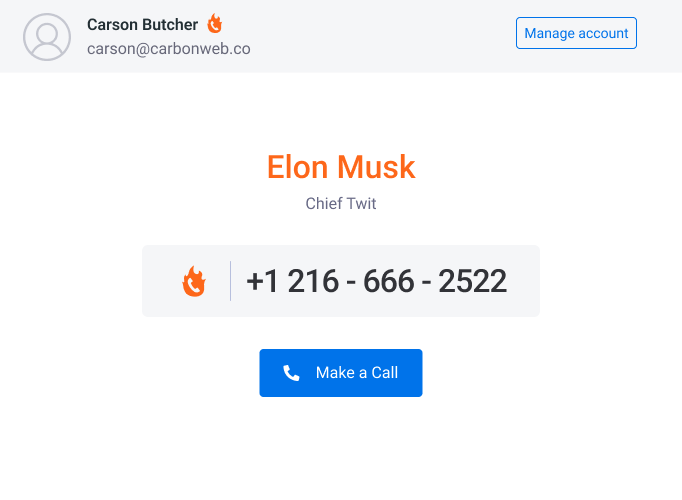 ­
­
­
This is CarbonWeb's contact number, not Elon's. Feel free to give us a call though!

Here's a checklist to ensure your account is setup for success:
1.) Standardize the naming of your boards – By doing this, you will be able to set a precedent for your teams, enabling you to keep a very organized and easy-to-navigate account. Using Ctrl+B you can access Quick Search functionality to find boards easier.
2.) Check and update your apps – Developers on monday are very active when it comes to releasing app updates. Right now, there isn't a great way to notify users on-platform that they're due for an update, so this is our way of reminding you to check your Admin Panel.
3.) Customize board item names – This is a relatively small impact on the overall system, but having item names relevant to the board will help your team logically navigate their processes.
4.) Create a guide for your monday account – This may seem redundant as you already have a grasp on your system, but think about the newbies that join your team; giving them a quick-start guide to using and navigating your account will put them weeks ahead when they start. (Stay tuned for a template we'll share in an upcoming directive!)
5.) Create account usage guidelines – The best way to create uniformity is to set SOPs (standard operating procedures) for your team within monday, whether that be a template for leaving updates, rules for using specific boards, or anything you deem as necessary to follow.
­
The Digital Directive is expanding!
We're preparing to expand the Digital Directive to showcase apps, workflows, templates, tools, and more from others in the monday.com community.
Are you proud of your monday account? Think you've built the perfect workflow that you want to show-off to others? Have an app that's making a difference in your workflow? Have an automation that others would love?
We want to know about it so we can show you off!
Click the button below to get featured!
­
Have a friend that needs some digital direction? Share this link: https://www.carbonweb.co/digital-directive/?utm_source=digital-directive&utm_medium=referral