DD #49 – Admin 101 for monday.com
Welcome to the 49th Edition of the Digital Directive! We've been hearing from the community that managing monday accounts as an admin can be a hefty task. We're here to say it doesn't have to feel that way, and there are plenty of actions you can take to make your life easier.
Sure, you may need to invest an hour or two of time, but when it's saving you days of stressful work down the line, it's one of those no-brainer investments worth making.
As certified monday.com channel partners, CarbonWeb is here to provide you insight and advice while supporting you along your monday journey in any way we can.
Ready to go from simply being an admin to being the champion of your monday environment? Let's dive in, this one's big!

Everyday Admin Responsibilities
As the champion of your team's workflow, you have the power to influence and encourage your team to buy into monday fully. Being an admin on monday is about more than just access and user permissions… it's about shaping the environment that facilitates your team's success!
With that comes the juggling of board management and setup, defining user permissions, controlling apps and integration usage, crafting the automations that bring workflows to life, and more.
Admin Essentials:
User Management: You manage the onboarding and offboarding of team members, define user access and permissions, and organize people into teams.
Board Management: You're in charge of creating, archiving, and managing boards. You can establish board owners, control access and permissions, and design the blueprint for your team's workflow.
Integrations and Automations: A vital part of an admin's role is setting up and managing integrations with other software tools, as well as designing automations to speed up repetitive tasks.
Security and Compliance: Admins are the gatekeepers of monday, ensuring that the platform's usage aligns with company policies and that security is above grade. And let's not forget about billing control.
Armed with these fundamental admin functions, you're ready to craft a cohesive, efficient, and well-organized workspace for your team on monday. Let's explore each of these functions in depth.

Navigating User Management
User Management is perhaps one of the most critical tasks an admin undertakes. Balancing the fine line between ensuring accessibility for your team while maintaining security and control requires a keen understanding of monday's user roles and permissions. Let's dig in:
Adding and Removing Users: As an admin, you're be in charge of adding new team members to your monday workspace and removing those who leave. This involves setting up their profiles, assigning them to teams, and managing their status.


Assigning User Roles: monday offers various user roles such as admin, member, viewer, and guest. Each role comes with different levels of permissions and access, so make sure to assign roles thoughtfully. Plus, with the recent addition of custom user roles, you can now create entirely custom roles allowing users more (or less) control of their workflow.


Creating and Managing Teams: Teams in monday enable you to manage permissions and notifications for groups of users easily. They can be department-specific, project-specific, or even ad-hoc teams for a temporary purpose.

It's important to remember user management isn't a one-time task; it requires constant maintenance and updates as your organization evolves. However, the time you invest in setting up and managing your team's access effectively will pay off in seamless collaboration and enhanced productivity.

Board Management – The Heart of Your Workflow
Boards are the lifeblood of monday. They are where tasks, projects, and workflows live, providing a visual representation of your work and progress. So, how can you set them up effectively as an admin? Here's a quick guide:
Define Your Structure: Determine the layout of your boards based on the nature of your projects and tasks. You can choose between Main Boards, Shareable Boards, and Private Boards depending on your team's needs and the level of visibility required.


Use Columns Wisely: monday offers a variety of column types – from text, numbers, and statuses to dates, tags, people, and more. Select the ones that best represent the information you need to track (and don't forget about connected boards and mirror columns!)


Group Items: Use groups to segment your board into logical sections. This could be by project phase, type, status, or any other grouping that makes sense for your workflow.


Set Up Automations: Reduce manual work by setting up automations that trigger based on certain events on your board. This could be auto-assigning tasks, creating items, changing statuses, sending notifications, and more.


Create Views: Use board views to visualize your data in different ways. You might use a calendar view for deadlines, a chart view for tracking progress, or a form view to capture input from outside your team.


Manage Permissions: As an admin, you have control over who can see, edit, and interact with your board. Make sure to set these according to your team's roles and needs.

Remember, a well-structured board not only keeps everyone organized but also enables effective collaboration, efficient workflow, and a clear overview of progress. It's a crucial step towards making the most out of monday.

Harnessing the Power of Notifications and Automations
Taking control as an admin also means optimizing how your team receives information. By effectively managing notifications and automations, you can ensure the right people get the correct information at the right time, preventing overload and keeping everyone focused.
Mastering Notification Settings: monday's notification system is flexible and customizable. You can manage default notification settings as an admin to ensure your team isn't bombarded with irrelevant updates. Moreover, you can control the individual board-level notifications to ensure only relevant notifications go to relevant parties.


A+ Automation: The possibilities for automation are endless, and as an admin, it's imperative you take the time to understand automations, enable suitable members of your team to take it on, or connect with an experienced partner to help you along the journey.


Integrations for a Centralized Workspace: Your role as an admin extends to integrating all the other tools your team needs to succeed and pave the path forward. Whether it's email, calendars, outside software, or even social media – having all your work in one place will save everyone time, reduce info silos, and make collaboration seamless.
­
As an admin, your efforts in setting up and maintaining these systems will be rewarded with a more efficient, more collaborative, and ultimately more successful team. And remember, you're not alone. Our team at CarbonWeb is always here to guide and support you along your admin journey.

The Security & Permissions Playbook
Being an exceptional admin also entails vigilance over your workspace's security. Fortunately, monday offers a wide array of security features and permission settings that can be tailored to fit your team's needs.
Board Permissions: Control who can view, edit, or share your boards.
Column Permissions: Define who can make changes to individual columns.
Two-Factor Authentication: Add an extra security layer with 2FA.
Session Management: Review and manage active user sessions.
Password Policy: Set standards for password complexity and strength.
Private Boards & Items: Safeguard sensitive information with private boards and items.
Integrations & Apps: Be selective about the third-party integrations and apps you authorize.
File Management: Keep a clean house by regularly auditing and managing files.
Account Activity Logs: Keep an eye on the pulse of account activities to detect unusual behavior.
User Permissions: Categorize your team into members, viewers, and admins according to their roles and responsibilities.
User Engagement: Monitor user interactions and usage of automations/integrations for better insight into user adoption.
As an admin, you play a critical role in data safety and workflow efficiency. If you need some consulting on best practices and setting up your account for success, our team of certified Solution Architects is here to guide you.

Becoming the Best Admin for Your Team
Becoming a truly effective admin goes beyond understanding monday's settings and features. It's also about being a resource for your team, encouraging their progress, and continually seeking to improve your own knowledge and skills.
Encourage Collaboration: Promote a culture of open communication and teamwork within your monday boards. Highlight the benefits of collaboration features like @mentions and updates.


Seek Feedback: Regularly ask your team for feedback about the boards and workflows. Are they helping or hindering their work? Be ready to make changes based on their input.


Keep Learning: monday.com frequently releases updates and new features. Stay in the know by checking their blog, attending webinars, or subscribing to newsletters (like this one!).


Share the Knowledge: When you learn something new or find a solution to a common problem, share it with your team. Make learning a shared journey. We always encourage users to develop an internal knowledge base to store guides, tips, and other helpful information surrounding their monday environment.

Remember, every great admin started from the beginning. It's a role of ongoing growth and adaptation. So keep pushing forward, and know that every challenge you conquer makes you a better admin for your team.

Need a lift? We've Got You Covered!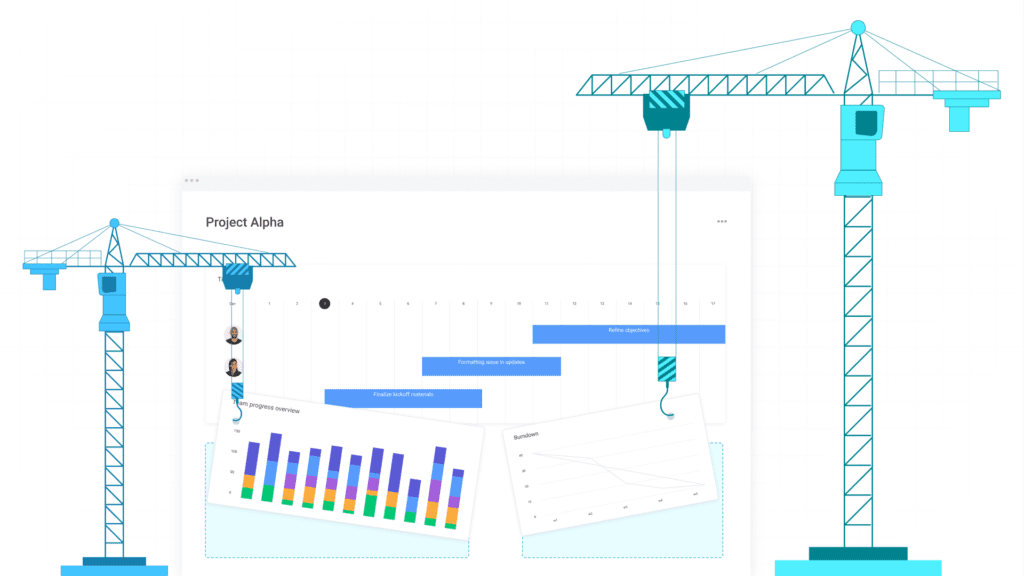 Navigating the administrative responsibilities of monday.com can sometimes feel like charting an intricate labyrinth. You're juggling board setups, user management, automation configurations, and more, all while trying to maximize efficiency and productivity for your team.
That's where CarbonWeb steps in! As certified monday.com partners, we're well-versed in the ins and outs of the platform. Our team of expert Solution Architects is on hand to help you navigate the administrative maze, offering guidance on best practices and troubleshooting tips to streamline your monday experience.
From setting up your workflows to ensuring smooth sailing for your team, CarbonWeb's Workflow Services have got you covered. We're here to handle the technical side of things, allowing you to focus on steering your business growth.
Remember, being an exceptional admin doesn't mean going it alone. We're here to provide the lift you need to keep things running smoothly!
Keep spreading the word!
If you have questions about apps, wondering the best way to build a workflow, or have ideas for a topic you want to see covered in a future Digital Directive, feel free to share 'em with us!
­Submit an idea

Have a friend that needs some digital direction? Share this link: https://www.carbonweb.co/digital-directive/?utm_source=digital-directive&utm_medium=referral