DD# 60 – Five Dozen Digital Directives Later…
Welcome to our 60th edition of the Digital Directive! Our apologies for the late addition; we had an unexpected platform issue yesterday!
Nonetheless, 60 weeks, 5 dozen editions, and countless tips, tricks, and hacks later, we're thrilled to continue sharing the power of monday with you!
If you've found value in our content, we ask you to share the newsletter with one person you think might enjoy a curated newsletter about monday every single week!
Send 'em this link via copy-paste: https://www.carbonweb.co/digital-directive/?utm_source=digital-directive&utm_medium=referral
This week, we're diving into industry-specific use cases for monday and highlighting industries we know are finding success on the paltform. And in the spirit of the 🏈 NFL Season, let's kick off our 5 Dozen Digital Directives celebration!

Industries Already Excelling on monday
Adaptability, versatility, and customizability are three words to describe the monday platform. Small Biz, Startups, and Fortune 500 companies have all found ways to leverage the monday platform, and while anyone can succeed with monday, here is our list of industries we know are thriving on the platform today.
Real Estate
Realtors and agencies use monday to track listings, manage client relationships, and streamline property tours. Integrations allow agents to sync calendars, set up property alerts, and even monitor local property market trends.
Home & Business Services
From initial client inquiries to project completion, businesses specializing in services like landscaping, hardscaping, HVAC, and roofing find Monday indispensable. From scheduling service appointments, ensuring timely delivery of materials, tracking project milestones, allocating resources, etc.
IT & Software Development
Development teams manage sprints, track bugs, and maintain backlogs with clarity. monday's automation and integration capabilities mean seamless handoffs between developers, QA testers, and deployment teams.
Marketing & Advertising
Marketing and creative agencies monitor projects and campaigns, measure ROI, and manage client communications, all from monday. It's the hub for content calendars, approval workflows, and influencer collaborations and so much more!
E-commerce & Retail
Inventory management, sales reporting, and customer feedback are tracked effortlessly. E-commerce teams sync their monday boards with platforms like Shopify, while retailers sync Square or other POS platforms.
Manufacturing & Production
From procurement to quality control to shipping, monday is the backbone for many manufacturing processes here in the United States especially. Teams monitor the production line status in real-time, ensuring smooth operations and better oversight.
Recruiting & HR
Using monday, Recruiters and HR teams seamlessly manage hiring pipelines, schedule interviews, and onboard new hires. The platform also aids in tracking employee performance, making talent acquisition and retention more systematic and effective. CarbonRecruiting Suite is the premier option for recruiters moving to monday! Learn more today
Healthcare & Medical Services
Clinics schedule appointments, manage medical records, and track patient cycles. Integrations allow seamless communication between administrative staff, medical professionals, and patients. And thanks to the HIPPA compliance of monday, all records and documents are legally safe and secure!
Education & Training
Institutions and training centers plan curriculums, track student progress, and manage administrative tasks, making monday a virtual campus. Plus, educators use it for lesson planning and resource sharing. Learn more about student plans and educational discounts.
Hospitality & Events
Hotels, restaurants, and event planners rely on monday for reservations, staff scheduling, and all-around event management. It's also been instrumental in organizing virtual events, with integrations allowing smooth ticketing and attendance checks. Stay tuned for our newest suite, Festival Ops coming in early 2024! Get on the list today
Finance & Consulting
Financial teams project revenues, monitor expenses, and manage client portfolios. On the flip side, consultants use monday to coordinate with clients, maintain project timelines, and ensure deliverables are met on schedule.
Non-Profit & Community Initiatives
From fundraising campaigns to volunteer management, NGOs utilize monday to magnify their impact. Collaboration tools within the platform enhance team communication, ensuring projects align with the organization's mission. Learn more about monday plans for nonprofits

Building the Workflow You Need
Whether you're already on monday, or seeking a change to monday, one thing remains true: There's no platform like monday.
This comes with advantages, like true customization, scaling, detailed tailoring of processes, and unlimited iterability on the platform, unlike most rigid unchangeable software. However, these advantages require knowledge, experience, and time allocated to truly make the most of them. You're busy operating a business, and that's why monday partners like us are here to help!
Building the workflow you need might initially seem daunting, but with CarbonWeb by your side, you're not building alone—you're upgrading your entire workflow for the better and gaining a new partner all in one.
Learn more about Carbon Workflow Services below!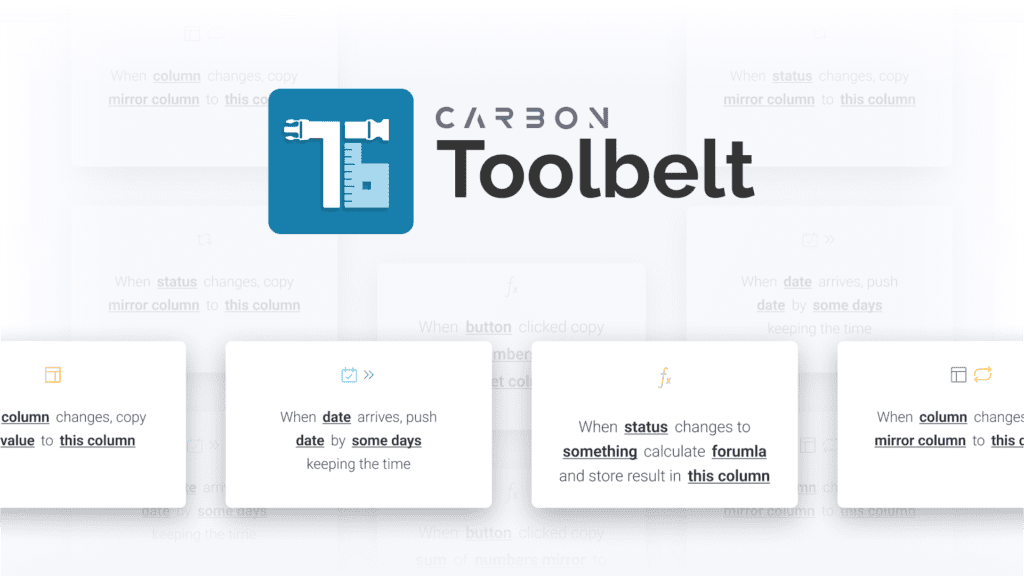 Renovate Your Workflow
Have gaps in your workflow you're trying to fill? We'd bet the CarbonToolbelt can fix most of those holes!
Get notified when the CarbonToolbelt releases on the marketplace and gain priority access to our team by clicking the button below!
Your Partner in Workflow Automation
As Channel & Advanced Delivery Partners, CarbonWeb has experience servicing workflows of all types and complexities. Book a workflow exploration with our team to take the next step in enhancing your business processes!
Keep spreading the word!
If you have questions about apps, wondering the best way to build a workflow, or have ideas for a topic you want to see covered in a future Digital Directive, feel free to share 'em with us!
­Submit an idea
­
Have a friend that needs some digital direction? Share this link: https://www.carbonweb.co/digital-directive/?utm_source=digital-directive&utm_medium=referral