DD #33 – Your personal guide to monday.com
We're back with the 33rd edition of the Digital Directive, and we've got a sweet guide to making your monday.com experience better all around!
We all use monday the way it works for us, but here are some tips you should put into action today from your certified monday.com channel partner.

Create a personal dashboard!
Whether you're brand new to monday or have been using it for years, the best way to get comfortable is to start building something of your own! At CarbonWeb, we're all about empowering our team to explore the possibilities of everyone's favorite Work OS.
From building templated workflows, and setting up additional automations, to creating dashboards, everyone on our team has the skills to develop effective digital processes proficiently.
Try building out a personal dashboard to track work, keep yourself accountable, and view your performance every day of the week.
Not sure what to include in it? No worries, we got you covered.
1.) Doer? Use time-tracking widgets connected to time-tracking columns in your work boards to visualize where you spend your time and get a great tally of your task time. Plus, graphs to better display where your efforts are spent.
2.) Salesperson? Create some graphs to visualize your pipeline, segment your leads, display your meetings (what's your no-show rate?), and visualize your won deals with a llama farm to lighten the mood and motivate yourself each and every day.
3.) Creative? Embed your work boards so you can easily find your creative requests while tailoring the view to your liking. Build out graphs to visualize requests, and add a battery column to show your completion progress.
4.) Overseer? Managing a team becomes easier with a dashboard connected to your day. You can use a calendar widget connected to your team's meetings and embed your staff list to easily check in with your team after promising meetings. And don't forget about the workload widget to see where everyone's time is being spent.
5.) Anyone? Get building. There are dozens of widgets, apps, and tools you can add to your dashboard to simplify your day, and keep yourself on track. And don't forget to add your bookmarks to make jumping to your go-to links as easy as can be.
Here's my personal daily dashboard: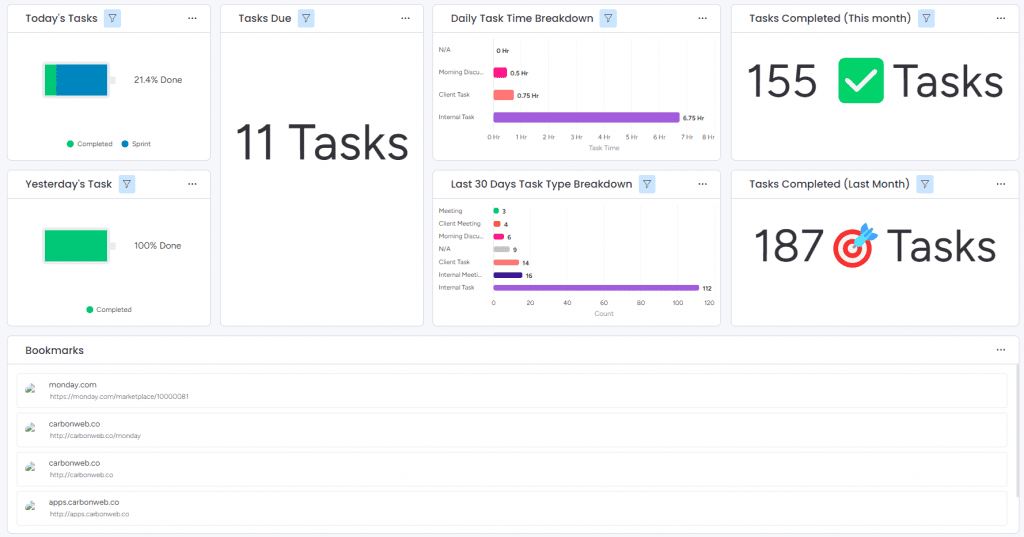 Our favorite widgets at CarbonWeb
There isn't a widget we would tell you not to use, but here are some you should definitely put into action:
Battery Widget
The battery widget is fantastic for creating a clean visual of progress on a board tied to your done statuses.
Number Widget
Number widgets are great for making metrics stand out, displaying data of any kind from a number column front and center.
I was mentioned in / Inbox Widgets
Never miss a notification, mention, or update with these widgets. Anytime you're tagged in an update, see it right in your dashboard.
Table Widget
Save yourself some clicks by embedding boards with the table widget, plus customize what columns you see to simply your view and streamline your consumption.
Chart Widget
The chart widget is great for visualizing data of any kind on any board in your monday account.

Setup for success:
Here's some more tricks from a previous directive to make monday adoption easier in your company!
1.) Standardize the naming of your boards – By doing this, you will be able to set a precedent for your teams, enabling you to keep a very organized and easy-to-navigate account. Using Ctrl+B you can access Quick Search functionality to find boards easier.
2.) Check and update your apps – Developers on monday are very active when it comes to releasing app updates. Right now, there isn't a great way to notify users on-platform that they're due for an update, so this is our way of reminding you to check your Admin Panel.
3.) Customize board item names – This is a relatively small impact on the overall system, but having item names relevant to the board will help your team logically navigate their processes.
4.) Create a guide for your monday account – This may seem redundant as you already have a grasp on your system, but think about the newbies that join your team; giving them a quick-start guide to using and navigating your account will put them weeks ahead when they start. (Stay tuned for a template we'll share in an upcoming directive!)
5.) Create account usage guidelines – The best way to create uniformity is to set SOPs (standard operating procedures) for your team within monday, whether that be a template for leaving updates, rules for using specific boards, or anything you deem as necessary to follow.
Be a contributor
Are you proud of your monday account? Think you've built the perfect workflow that you want to show-off to others? Have an app that's making a difference in your workflow? Have an automation that others would love?
We want to know about it so we can spread the love!
Click the button below to get featured
­
Have a friend that needs some digital direction? Share this link: https://www.carbonweb.co/digital-directive/?utm_source=digital-directive&utm_medium=referral