DD #6 – Time-saving tips for monday.com
In the sixth edition of the Digital Directive, we're touching on quick tips to save you time on monday.com!

75% of you are active monday users, and we want you to make the most of every minute. 

No time to waste; let's dive in to some time-saving tips!
It's time to save more time.
1.) Bulk Actions ->
If you aren't familiar with bulk actions already on monday.com, you'll love this. There are probably numerous different times when you want to change the status of multiple items or move a bunch of items to different groups or boards.

It's super easy! Select an item, hold shift, and select another item; any items between these two will be selected. From here, you'll be able to make bulk edits to all items or transition them anywhere in your system. You'll never have to sit and edit dozens of items repetitively again. 
2.) Item Cards ->
Boards can get pretty bulky. With up to 200 columns on pro and 300 on enterprise plans, your screen isn't wide enough to fit all that data. That's where item cards come in, allowing you to create custom visualizations of your columns within an item.

Given item cards are still a relatively new feature, they remain extremely underutilized by the monday user base. We want to help you get a leg up on everyone else! Check out a previous blog we wrote on using item cards effectively.

To get item cards, simply click into the update bubble of an item, then click the + sign in the top bar and select Item Card in the item view center. From here, you'll be able to pick and choose what columns are present so you can input, edit, and see all the pertinent information relevant to your items. Here's a monday support article for more help.
3.) Build custom automations ->
Sure, if you're on monday, you've probably created some custom automations to help you move items, notify people, and all that good stuff. But there's a lot more you can do with automations to speed up the time you spend creating or inputting items in your system.

Do you have projects that follow an exact process that you do repetitively? Consider building custom automations to create items for each step in the process.

An example:
The same things happen for creating a blog every time.
Outline the blog
Write a draft
Revise the text
Write final copy
Create graphics
Post it
With custom automation, you could flip a status "New blog" and generate all these items in your task board, so you complete these steps in order every time. Setting this up will help pre-plan and optimize time because you know what work is coming down the pipeline for a specific task or project.
4.) Time blocking ->
Time blocking is an essential skill that will save you time and allow you to be far more productive. This applies to everyone, whether you're using monday.com or not. 

Elon Musk certainly popularized this method, but people have been working this way, likely for centuries. The premise is simple, know ahead of time what you need to do throughout the day, and then block time for each activity, with the expectation that you'll complete that task within the allotted time.

The second step is prioritizing your work within this method. When somebody else's work relies on you completing something, you should see this as a higher priority. Setting these tasks first will ensure everyone can move forward with their work. Being strict with your time blocks is essential to maximize productivity.

Now, if you use google calendar, you already have a tool for time blocking. Now you just need to do it! Get more information on time blocking here. You can even integrate google calender directly into monday.com!
Our user base is growing!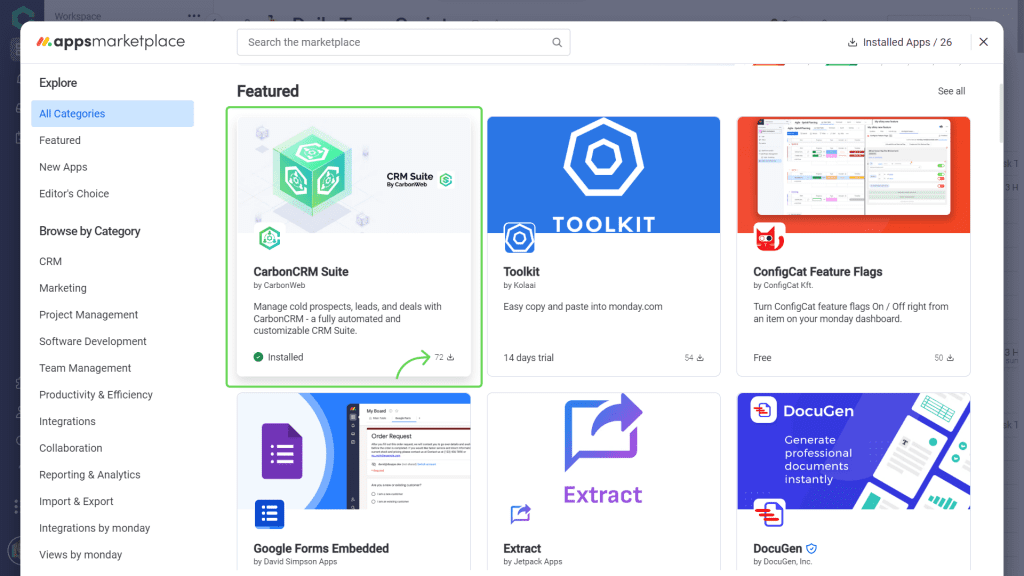 When it comes to time-saving tips on monday.com, the CarbonCRM has proved to be a great solution for companies looking to manage their relationships efficiently. More and more people are trying out the CarbonCRM and loving it! Let us know what you think, and get started for free on the monday.com marketplace!
Outlining your teams' workflows
­The first step to putting all these puzzle pieces together is to consider them as they relate to your business. From here, you need to apply these ideas to your different business processes and your team's workflows.

Watch our video on outlining a workflow! We walk you through the entire process so you can replicate it and start building the ideal process for managing your team and overall business.