DD #43 – Strengthen Client Relationships
Welcome to the 43rd Edition of the Digital Directive! In this edition, we'll be exploring the importance of effective client communication and process transparency and how monday can be a game-changer in managing client relationships.
As certified monday channel partners, we've witnessed firsthand how monday's versatile workflows can significantly improve client trust, streamline decision-making, and promote collaboration between teams and clients.
In today's fast-paced business environment, maintaining open lines of communication and fostering transparency with clients is essential for building trust and long-lasting relationships. Let's dive into the many ways you can leverage monday to enhance your client communication and take your business relationships to new heights!

Client-friendly features to boost communication and transparency
monday offers a range of features designed to help you maintain open communication and transparency with your clients. Here are some of the best features that you can use to improve your client relationships:
Shareable boards: Create shareable boards with view-only or edit permissions for your clients, allowing them to see the progress of their projects in real-time. With custom permissions, you can ensure that clients can access only the relevant information they need.
Guest access: Invite your clients as guests to your monday account, providing them with a dedicated space to collaborate, leave comments, and ask questions. This not only keeps communication organized and efficient but also helps build trust and rapport with your clients.
Automations and integrations: Set up automations to notify clients of important updates or milestones, ensuring they are always informed about the project status. You can also integrate monday with popular communication tools like Slack, Microsoft Teams, or email to maintain seamless communication.
Timeline and Gantt views: Use the Timeline and Gantt views to provide clients with a visual representation of project progress, deadlines, and dependencies. This helps clients understand the overall project flow and make informed decisions.
Custom forms: Create custom forms for clients to submit project requests, feedback, or any other information directly into your monday boards. This simplifies the process for clients and ensures all their input is organized and easy to access for your team.
By incorporating these powerful monday features into your workflow, you can significantly improve client communication and process transparency, leading to stronger client relationships and increased satisfaction.

Real-world examples of improved client communication and transparency
Now that we've identified some handy features let's visualize them in the real world. Here are three distinctly different use cases where monday is enabling a better client relationship.
Marketing Agency: A marketing agency uses shareable boards to provide clients with real-time updates on their campaigns. By granting view-only access to the boards, clients can see the progress of tasks such as content creation, social media posting, and ad performance. The agency also utilizes monday's email integration to send automated notifications to clients when key milestones are reached or if their input is needed. This keeps clients informed and engaged throughout the entire campaign process.
Web Development Company: A web development company invites clients as guests to their monday account, creating a dedicated space for project collaboration. Clients can view and comment on tasks, ask questions, and provide feedback directly within monday. The company also leverages the Timeline and Gantt views to visually represent project timelines, deadlines, and dependencies for their clients. This ensures clients have a clear understanding of the project's progress and fosters trust in the development process.
Consulting Firm: A consulting firm uses custom forms to collect project requirements and feedback from clients. These forms are connected to the firm's monday boards, ensuring all client input is organized and easily accessible for the team. Additionally, the firm sets up automations to notify clients of important updates, keeping them in the loop without the need for manual communication. This streamlined process not only saves time for the consulting team but also demonstrates their commitment to keeping clients informed and engaged.
By leveraging these monday features, businesses across various industries can improve client communication and process transparency, ultimately leading to more successful projects and satisfied clients. Check out our blog: 8 Business Use Cases for monday.com for more.
Need help building your dream client portal? We've got you covered!
­

Transparency in Recruiting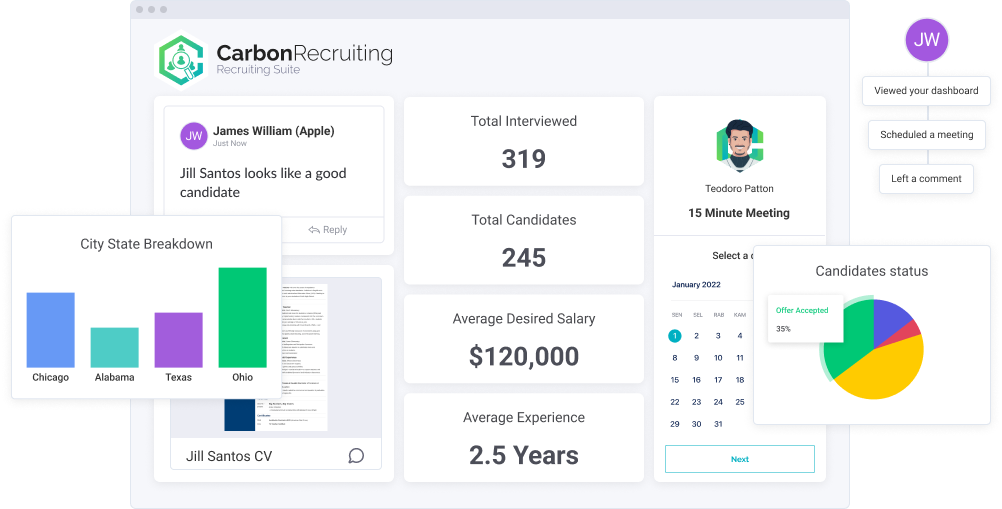 Just like marketing, development, or consultancies, recruiting firms rely on rapport and results to get in front of companies. The CarbonRecruiting Suite gives you the tools needed to generate results while creating the environment necessary to build great rapport and demonstrate transparency in your process.
With the release of the CarbonRecruiting Suite in the marketplace last week, recruiting firms are jumping on the train to gain an edge over their competition. With a client portal for every position, your team can customize the experience for each and every client opportunity.
Don't wait until the dust settles to hop aboard – Make your next placement with CarbonRecruiting on monday.com!
Keep spreading the word!
If you have questions about apps, wondering the best way to build a workflow, or have ideas for a topic you want to see covered in a future Digital Directive, feel free to share 'em with us!
­
Have a friend that needs some digital direction? Share this link: https://www.carbonweb.co/digital-directive/?utm_source=digital-directive&utm_medium=referral