DD #9 – Start using roadmaps
We're digging into your company roadmaps in this week's edition of the Digital Directive. Learn why they're so important, how they attract new customers, and the growth opportunities they create.
If you're in the US and off for Labor Day, enjoy it! Otherwise, if you're working today, we've got a great newsletter for you to read!
Roadmaps come in different shapes and sizes.
Roadmaps in business can serve a lot of different purposes, depending on the department using it, the person creating and managing it, and the overall company objective its tracking.
A few quick examples:
Product Roadmaps – Are detailed plans of how a company will develop its product or solution. Shared internally and with customers, they are the guidelines of what to expect down the road.
Company Roadmaps – Outline the future of the company, and paint a picture of what the company plans to accomplish within that period of time.
Employment Roadmaps – Sometimes called onboarding roadmaps, these outline employee's journey starting a new role, and that glimpse into their future growth opportunities.
CX Roadmaps – A customer experience (CX) roadmap is a tactical blueprint that highlights which CX initiatives to take and when.

How to create roadmaps for your organization
There are a lot of different ways to create a roadmap, on paper, in excel, but if you're already on monday.com then you have the tools at your fingertips to create one hell of a roadmap.
Here's the quick steps on monday:
1. Decide what kind of roadmap you need
2. Create a new board (Need a template? Use this one)
3. Outline your different groups
4. Enter the different core objectives/tasks as items
5. Use the timeline, or gantt views to gain your visual roadmap
Here's what that could look like: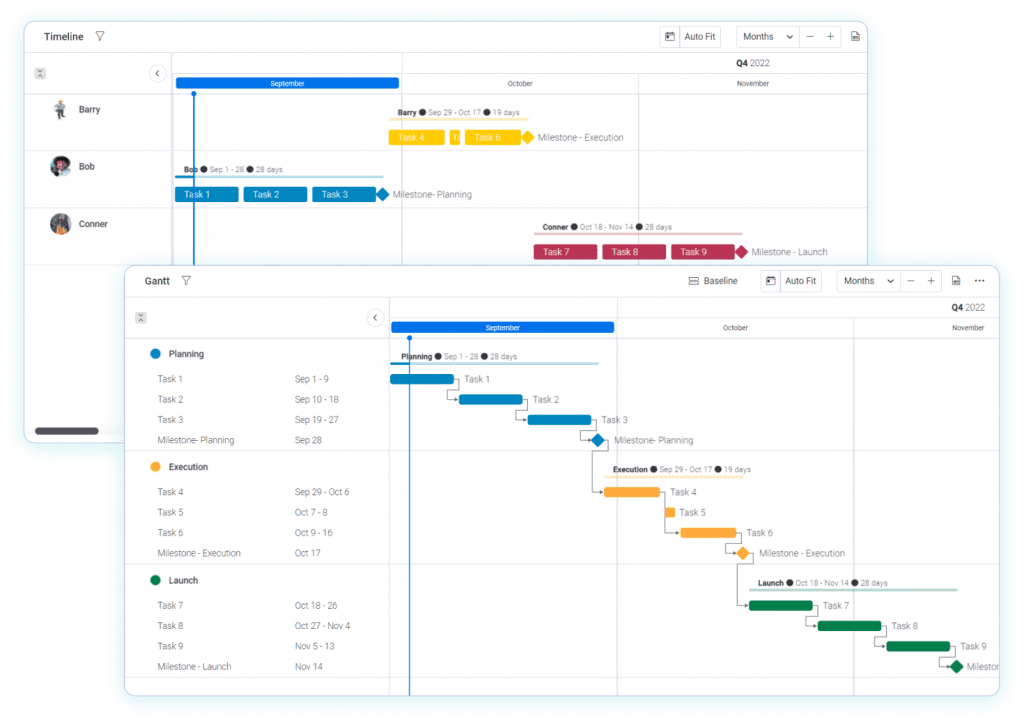 Why do you need a company roadmap?
­A better question might be, why don't you have a company roadmap? Without a company roadmap, how do you know what's next for the company? Without a plan for your company's future, your business will only grow as big as the last idea.
­
­1.) Internal motivation for your team
­
Employee turnover rates have been increasing since 2020, according to the Congressional Research Service. This means we need more ways to keep staff engaged and bought into the mission. Giving your employees meaningful work is essential, and with roadmaps, your employees can actually look forward to the company's future.
­
­2.) Improves your current customers' experiences

­Roadmaps allow you to show your customers what's to come; some companies even let you vote on what's next, allowing you to push desired feature requests to the top of the list. You'll ever receive is from your least happy customers because they're brutally honest.
Bill Gates said it best, "Your most unhappy customers are your greatest source of learning." So connecting with your unhappy customers, receiving feedback (even if it stings a little), and having a way to reflect their input to your company is essential.
­
­3.) Allocating resources accordingly
­
Money, time, tools, and people, are all things that you have to balance. Having a roadmap will allow you to allocate resources accordingly and help you plan your company's future without putting a strain on your team.
­
­4.) Projections + Growth Planning
­
Growing your company is essential and having a plan in place is vital. Roadmaps serve as the outline for the future, sometimes, they're a few months long, and other times they're a year or more. Having this outline makes projecting your growth and planning for it much more manageable.
­
5.) Attract new customers
­
When customers search for something new, especially with products, they want to know what's coming next. Should they buy this model or wait a few months? Maybe you have plans to begin offering a new service; a roadmap will have a line of people ready when you start offering it.
Another example is someone is waiting until your software has a particular feature before they make the big switch. With a roadmap, you can confirm to new customers that these features are coming and even give them time to offer suggestions or feedback. Maybe the roadmap is enough to get them on now, knowing their desired feature is only a few months away.

Did you see monday's 15th product update?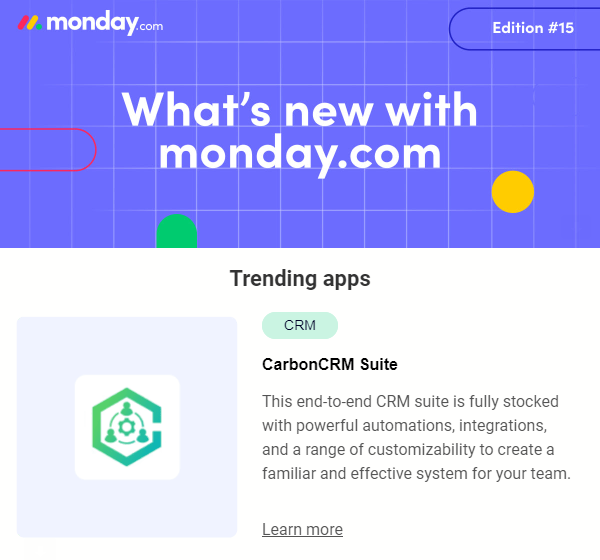 The CarbonCRM was featured in Edition #15 of the monday.com product update newsletter as a Trending app! We're super excited to see how well received the CarbonCRM has been from the entire monday community.
Another cool fact, the CarbonCRM has touched down in 34 different countries!
We want to hear your feedback on the CarbonCRM Suite. Get it free for 14-days here, or schedule a personal demo with the button below!
­Get a personalized demo here!
­The Digital Directive is expanding!
We're preparing to expand the Digital Directive to showcase apps, workflows, templates, tools, and more from others in the monday.com community.
Are you proud of your monday account? Think you've built the perfect workflow that you want to show-off to others? Have an app that's making a difference in your workflow? Have an automation that others would love?
We want to know about it so we can show you off!
Click the button below to get featured!
­
Have a friend that needs some digital direction? Share this link: https://www.carbonweb.co/digital-directive/?utm_source=digital-directive&utm_medium=referral