DD# 62 – Powerful Upgrades to monday.com
Greetings to our Digital Directive Readers in Edition #62!
As monday constantly evolves, it introduces an array of new features designed to optimize your workflow and enhance your team's productivity.
In this edition, we will dissect each feature, focusing on what it is, its benefits, and how you can seamlessly integrate it into your operations. Let's dive in and explore how to make the most out of the newest functionalities in monday!

New Niceties You Should Start Using
Not every feature added to the monday platform is essential, but they make working on the platform better and more pleasurable. Let's take a look at some of these features first.
Personalize your workdoc cover photo
You're now able to add custom banners at the top of workdocs. Previously, you could only choose from monday's and Unsplash's library. This will allow users to tailor their monday environments further.
Set a team as a board or doc owner
You're now able to assign an entire team to be an owner, making workflow management easier. Previously, you had to select and "crown" each owner individually. Now, it takes fewer clicks to ensure everyone who needs access has it!
React to updates with Emojis
You can now react to updates using emojis, the same way you'd normally give a thumbs up. This gives teams more ways to communicate efficiently, while being able to convey different emotions.
Of course, there are other improvements that play a more key role in the platform, but these niceties are welcomed by all users!

The Features We've Been Waiting For
As with any tech platform, there are always features users are waiting on, and monday has delivered a slew of platform upgrades in the last few months. Here's a few worth highlighting:
HTML email editor on Emails and Activities (Sales CRM)
Sales CRM users can now send HTML-coded emails within Emails and Activities. This means you can now create fully customized and branded emails.
Date Column Revamp (gradual release)
The date column picker has been revamped, making it more intuitive, and less prone to annoying glitches when trying to schedule dates. This is being gradually rolled out to all users.
Priority Column on My Work
The My Work feature now supports the priority column, so you can easily keep track of all your tasks and corresponding deadlines.
Lock your views to prevent unwanted edits
For as long as boards existed, with the right permissions anyone could easily, accidentally mess up a workflow by changing a view. Now, you can lock view individually, ensuring your workflows remain intact but accessible to the right people.
AI Assistant within Emails and Activities
The monday AI Assistant is accessible within the Emails and Activities widget. You can use generative AI to produce the perfect email for any scenario. (We recommend always double-checking AI-generated copy.)
Stay tuned for the next round of platform updates. Want to know what's new before we can tell you?
Check out this page:
https://monday.com/whats-new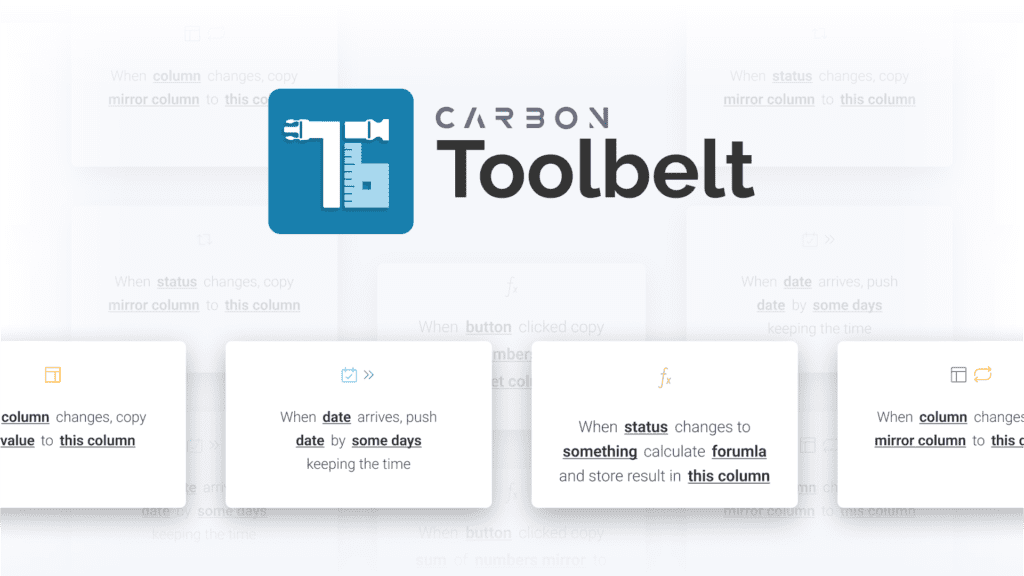 Renovate Your Workflow
The long-awaited release of the CarbonToolbelt is happening tomorrow! (Barring any unforeseen challenges)
🛠️ Seamless Calculations: Say goodbye to the complexities of formula columns. Calculate directly in standard columns with ease.
🛠️ Data Mastery: Experience unparalleled control over column and mirrored column data manipulation.
🛠️ Effortless SOPs: Implement standard operating procedures right within your workflows for consistent excellence.
🛠️ Preserving Time Nuances: Push dates forward without disrupting set times, thanks to intuitive triggers.
🛠️ and so many other amazing workflow-enhancing features.
Get ready to welcome a new standard of workflow automation within your monday account! Get notified when it releases!
­Notify me! – Toolbelt Launch
­

Your Partner in Workflow Automation
As Channel & Advanced Delivery Partners, CarbonWeb has experience servicing workflows of all types and complexities. Book a workflow exploration with our team to take the next step in enhancing your business processes!
Keep spreading the word!
If you have questions about apps, wondering the best way to build a workflow, or have ideas for a topic you want to see covered in a future Digital Directive, feel free to share 'em with us!
­Submit an idea
­
Have a friend that needs some digital direction? Share this link: https://www.carbonweb.co/digital-directive/?utm_source=digital-directive&utm_medium=referral