DD #66 – Using monday in the Real-World
Welcome to Edition #66 of the Digital Directive! It's incredible to think about how far we've come since edition #22, when we tackled the topic of onboarding. But as we step into a new season of hiring and with new features on monday, it's time to re-evaluate and bolster our approach to welcoming new teammates.
Setting the Onboarding Tone
In an ever-evolving work environment, the key to successful onboarding lies not just in integration but in sustained engagement. With monday.com, you're not just offering tools but crafting experiences that resonate.
Key Integrations for Onboarding:
Monday's Welcome Board: Kickstart the journey with a dynamic welcome board on monday. It can include a checklist of first-week tasks, team introductions, and initial project assignments. With monday's intuitive features, adjusting the board per role is seamless.
Onboarding Workshops with monday: Utilize monday to schedule and conduct initial training sessions. With integrative video and documentation capabilities make every session engaging and informative.
Feedback Collection: Remember, onboarding is a two-way street. Set up periodic check-ins using monday to collect feedback. Understand what's working and where there's room for enhancement. This is an ever-changing process, and you should be comfortable with that.
Building a Holistic Onboarding Experience:
Cultural Immersion: Use monday to create a 'Culture Deck'. A visual representation of company values, traditions, and anecdotes. Let new members absorb the essence of your organizational identity.
Buddy System: Pair up new members with mentors within the company. This gives them someone to lean on when they're stuck and provides them with a steadfast resource at the company. Use monday to set up monthly catch-ups, ensuring personal development and integration into the team culture.
Personal Development Plans: Rather than waiting for the quarterly or annual review, use monday to help new members set their personal and professional goals from day one. It's not just about tasks but about growth and aspirations. There's a bunch of great templates already made for you in the template center too!

Now You Can Hear Your Work Flow!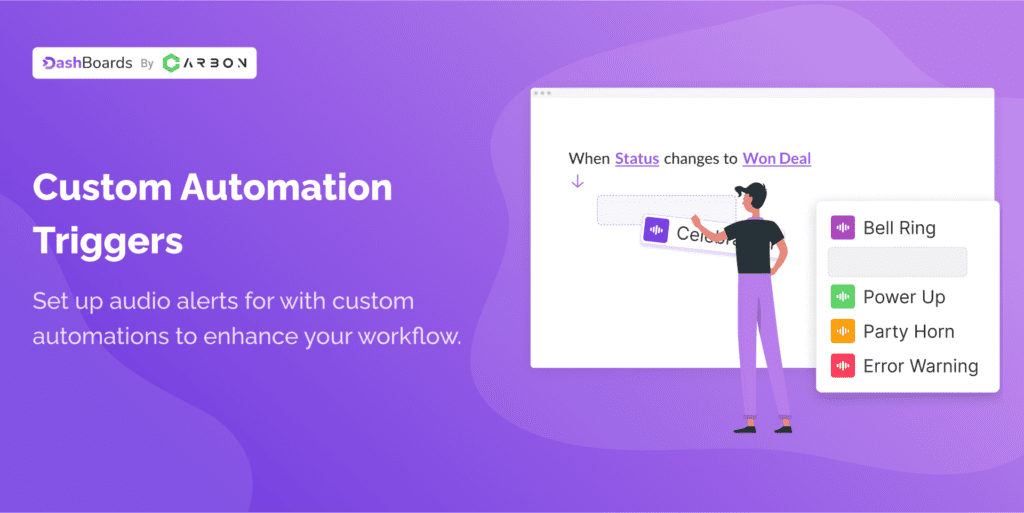 Say "Hello" to DashBoards—the only app on the monday app marketplace that lets you create customizable audible notifications that ring aloud when your conditions are met.
Perfect for alerting the team when a new teammate completes their onboarding so everyone can celebrate!
Now you can hear when a new support ticket comes in, alert the team that a new deal has been won and it's time to celebrate, or give audible confirmation that an item has progressed to the next step; the choice is yours, but the options are limitless!
Try it now with a 14-day free trial on monday! Click the button below to add it directly to your monday account.
Add to monday.com

Want to talk with a product consultant? Book a time
Your Partner in Workflow
You don't have to build this all out alone! Our team at CarbonWeb is here to help make your monday experience as seamless as possible, so you can focus on what's important: Growing your business!
As Channel & Advanced Delivery Partners, CarbonWeb has experience servicing workflows of all types and complexities. Book a workflow exploration with our team to take the next step in enhancing your business processes and beginning the journey to an autonomous process!
Keep spreading the word!
If you have questions about apps, wondering the best way to build a workflow, or have ideas for a topic you want to see covered in a future Digital Directive, feel free to share 'em with us!

Have a friend that needs some digital direction? Share this link: https://www.carbonweb.co/digital-directive/?utm_source=digital-directive&utm_medium=referral