DD #55 – Must-have Boards in Your Workflow
Welcome to Edition #55 of the Digital Directive, and sorry we're late! Let's not waste anymore time, we're about to embark on an exciting journey through the heart of monday's functionality – boards!
Boards are the lifeblood of any monday account, the place where tasks, projects, and collaborations take life. But not all boards are created equal. In this edition, we'll introduce you to must-have boards that can transform any user's experience on monday and make it a place of refugee in chaos.
Whether you're a seasoned monday veteran looking to refine your workflow or a newcomer eager to hit the ground running, these boards are essential to ensuring longevity with the monday platform.

A "Quick" Board You Can't Go Without
When you got started on monday, the first thing you probably thought about was, where do I start? Like most, you likely thought about how to build a process you have in the current software you're using within monday.
We're here to tell you to pump the brakes and start with simple, straightforward, but essential internal resources. Not only will you find this super useful, but your whole team can learn to contribute and grow this resource.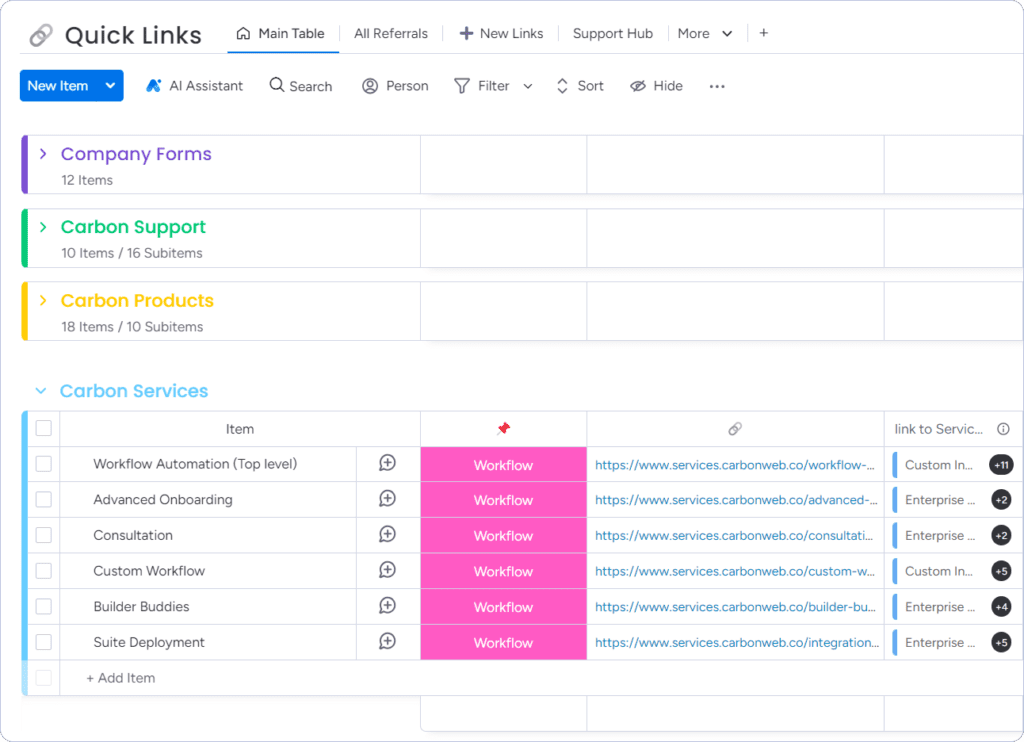 Quick Links
Quick Links board is perfect for easily storing important GO-TO links that you and your team need.
Groups: Use groups to categorize the types of links you are storing. This makes it super easy to find, filter, and search for the specific link someone may need.


Status: A status can be used to match groups and give a more visual label, or get more specific with the destination the links are bringing you to.


Columns: You can keep the board simple and use only a link column, or add other columns to expand this. We use a connected board column, to connect quick links to products, services, and other boards in our account.


Last Updated: We recommend using a last updated column, so everyone can see intuitively the last time this "link" item was updated and know if it may be out-of-date.


Views: Create a form to make adding new links easy for the entire team, and you can use different views to pre-filter common searches to make finding links even quicker!
With a Quick Links board, you'll begin to see all the diverse ways you can use monday to your advantage aside from automating standard workflows. These quality-of-life boards will tremendously enhance your team's adoption of monday by giving them a place to both use and contribute.

More Boards!
Now that we covered arguably the most useful board you could add at the beginning of your monday journey, let's run through a few more boards you should be sure to get started in your account.
Employee Database:
An Employee Database board is essential for efficient team management within an organization. Centralize vital information such as contact details, roles, expertise, work anniversaries, and maybe a fun fact or two. This becomes a strategic tool that empowers organizations to be more adaptive, responsive, and cohesive.
Plus, building this out early means you can have a more connected and integrated system in the future.
Workspace & Board Database:
You may never think of this, but a board to track and organize all the workspaces in your account is super helpful! By keeping track of what teams, users, and boards are part of a workspace, you can better visualize the size of your account, where information is, and how much access people have.
Plus, you can easily locate boards, docs, or dashboards in an intuitive path that's not just quick searching with ctrl + B.
Internal Ideas Form:
Set up a board to manage internal ideas with a form for team members to add new ones. This is super helpful because people don't always assume their feedback is welcomed. By instituting a process for giving feedback or suggesting ideas early, you make people feel more valued through their ideas.
Plus, some people always have feedback. It's better to give them a structured way to give it so there aren't a million suggestions floating around in the ether.
Your Partner in Workflow
There are always more boards you can add to your account, but starting with these will give you a good baseline and a great real-time experience creating boards and getting familiar with building workflows on monday.
As Channel & Advanced Delivery Partners, CarbonWeb offers Advanced Onboarding for monday.com, where we coach you through the creation of two unique workflows across six weekly meetings.

Keep spreading the word!
If you have questions about apps, wondering the best way to build a workflow, or have ideas for a topic you want to see covered in a future Digital Directive, feel free to share 'em with us!
­Submit an idea
­
Have a friend that needs some digital direction? Share this link: https://www.carbonweb.co/digital-directive/?utm_source=digital-directive&utm_medium=referral