DD #65 – Using monday in the Real-World
Welcome to Edition #65 of the Digital Directive. In the ever-shifting digital terrain of 2023, the office space has become a point of contingencies, where some businesses press forward expanding, and others draw back their investment.
In this edition, we'll discuss how you can integrate monday right into your office space in ways you'd never expect. Whether you're in-office, on the 'floor', or grinding away in your spare bedroom, this is for everyone!

Some Real-World Use Cases
If you've been on monday for a long time, you've likely seen how impactful in can be in your day-to-day life, whether for work or not. So let's highlight a few "real-world" use cases before we dive in to deep.
Resource and Room Booking
Application: In many offices, meeting rooms, equipment, or even vehicles might need to be booked in advance to avoid clashes and ensure smooth operations.
How monday helps: Create a board on monday specifically for resource booking. Each column can represent a different resource (e.g., "Conference Room A," "Projector," "Company Van"). Team members can then reserve time slots, ensuring no double-bookings and providing a clear view of resource allocation.
Onboarding New Employees
Application: When new team members join the office, they often require an introduction to company processes, training sessions, and equipment handovers.
How monday helps: Set up a standardized onboarding template on monday. As each new employee joins, duplicate this template for them, assigning tasks like "HR Orientation," "Laptop Setup," or "Team Introduction." This ensures a consistent onboarding experience and tracks the completion of each step.
Resource and Room Booking
Application: Physical office spaces have tangible assets that require regular maintenance or restocking. This could range from ensuring the coffee machine is serviced to replenishing office supplies.
How monday helps: Create an inventory and maintenance board on monday. List all assets and consumables, set reminders for maintenance checks or reorder points, and assign responsibility to specific team members. This way, the office environment remains functional and well-stocked.


Understanding the Power of Audible Feedback
Feedback is a vital component in any work environment, providing valuable insights that drive performance and improvement. While visual cues have traditionally been used for feedback, there is a significant untapped potential in leveraging audible feedback to enhance the physical work environment.
Feedback in the Workplace:
Feedback steers teams towards goals, pinpointing progress and improvement areas, with audible feedback offering unique benefits in hands-on tasks.
Auditory Feedback's Impact:
Sound deeply engages the human brain, with audible cues enhancing attention, emotions, and memory, thus uplifting workplace performance and motivation.
Auditory Cues Boost Productivity:
In jobs requiring manual or repetitive actions, auditory signals guide real-time actions, minimize mistakes, and reinforce proper behaviors, leading to heightened focus and efficiency.

Add Audible Alerts to Your Workflow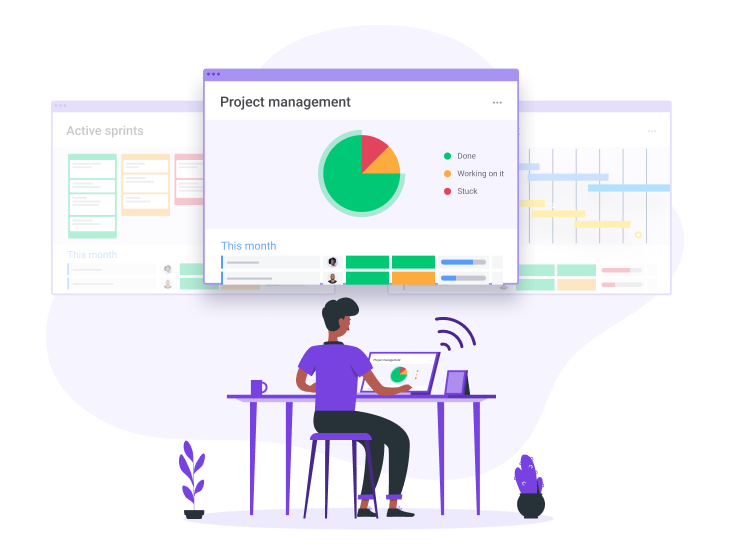 Meet DashBoards—the latest innovation for monday, set to redefine the physical work arena. Merging gamification, auditory response, and psychological insights, DashBoards is poised to reshape task engagement, creating an uplifting and streamlined workplace atmosphere.
DashBoards at a Glance:
🟣Productivity Amplified: DashBoards elevates workplace efficiency, integrating audible feedback into daily tasks, offering a lively, immersive experience.
🟣Tailored for You: Customizable auditory cues linked to task completions, errors, and milestones. Its user-friendly interface ensures feedback aligns with individual needs.
🟣Transformative Results: From manufacturing to healthcare, businesses adopting DashBoards have seen a surge in productivity, team synergy, and worker satisfaction. The tangible results? Enhanced concentration, minimized oversights, and amplified efficiency.
Harness the power of audible feedback with DashBoards and tap into a workspace where motivation thrives and results resonate. Stay tuned to discover the science and strategy behind DashBoards' success in our upcoming pieces.
Your Partner in Workflow
You don't have to build this all out alone! Our team at CarbonWeb is here to help make your monday experience as seamless as possible, so you can focus on what's important: Growing your business!
As Channel & Advanced Delivery Partners, CarbonWeb has experience servicing workflows of all types and complexities. Book a workflow exploration with our team to take the next step in enhancing your business processes and beginning the journey to an autonomous process!
Keep spreading the word!
If you have questions about apps, wondering the best way to build a workflow, or have ideas for a topic you want to see covered in a future Digital Directive, feel free to share 'em with us!
Have a friend that needs some digital direction? Share this link: https://www.carbonweb.co/digital-directive/?utm_source=digital-directive&utm_medium=referral