DD #36 – Make monday.com Stick With Glances
We're back for Edition #36 of the Digital Directive! Let's talk about how to make monday stickier for your team.
What do we mean?
We're willing to bet there are people on your team who abstain from using monday for one reason or another. A reason might be not having direct access to everything they need in one place. Not every software plugs in as easily, but we've got a way to fix that for you; hence making it "stickier" for everyone.
Ditch the constant tab toggling and context switching to view data from other apps while working on monday.com. Check out Glances, the platform that securely connects monday with all your favorite apps, showing your live data in one convenient view!

Enhance Your Monday Workflows Using Glances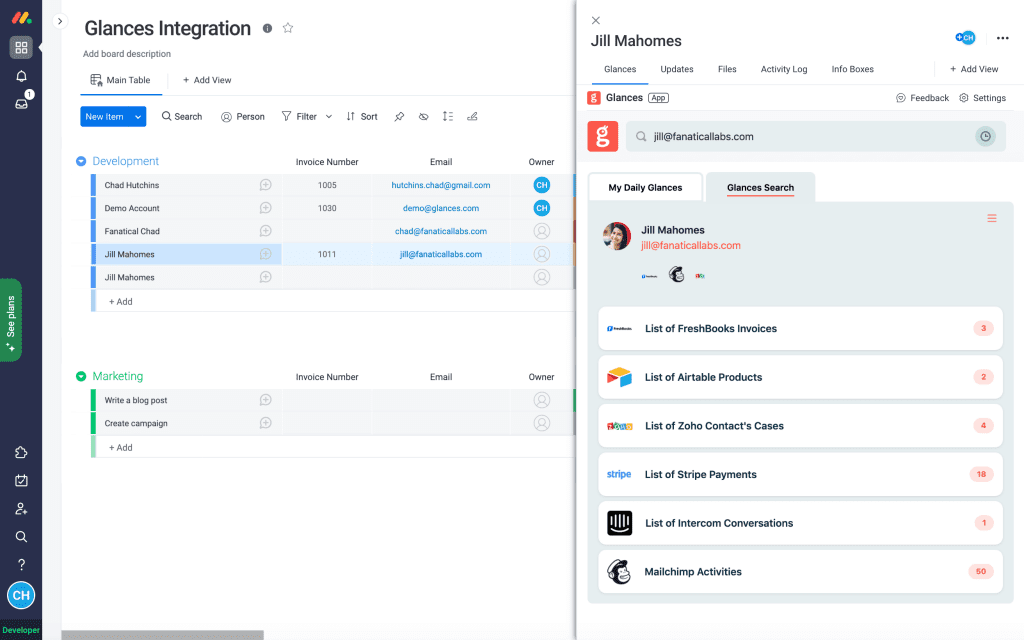 Now you can stay focused working on monday and streamline your workflows using Glances. Recently patented, Glances is a no-code integration platform that works anywhere online, plus includes in-app functionality with monday.
Simply connect your favorite business apps like QuickBooks, Salesforce, Mailchimp, etc. to get a quick, 360-degree view of your customer data and personal tasks. You can also perform time-saving actions across apps without navigating away from monday, such as creating and sending invoices, adding new customers, completing forms, and much more.
Glances empowers you to stay working in monday, plus…
✅ Search monday and all of your business apps at once
✅ Get fresh, real-time results within monday or anywhere online
✅ Eliminate clicks and tab switching between apps
✅ Perform multi-tasking Actions for other apps without leaving monday
✅ Give teammates data insights without direct access to accounts like QuickBooks
Having spent over 15 years developing software integrations for popular CRMs and apps like Mailchimp and Zendesk, the team behind Glances provides A+ support to help users with onboarding and finding the best-fit apps and Actions to improve team productivity. See for yourself how Glances eliminates data roadblocks and gets you back to The simplest way to work™.
Claim a 14-day trial at glances.com or within the monday app marketplace.

Learn more

How's it work?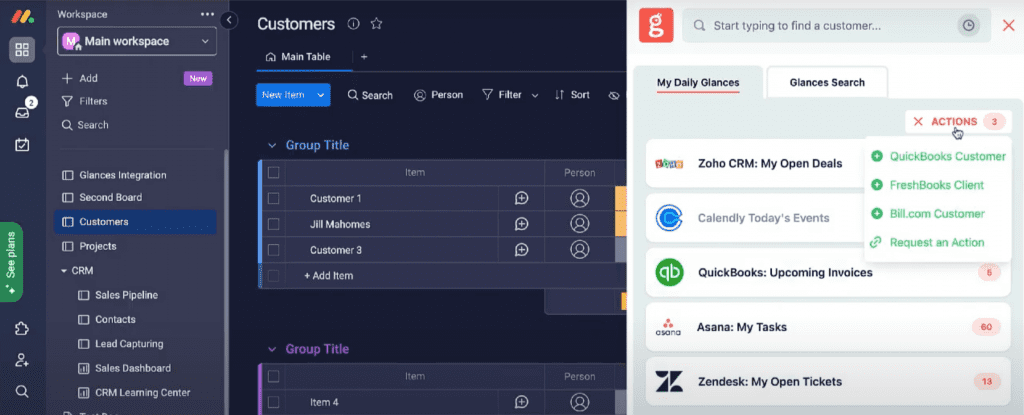 It works by syncing all your apps, tools, and software into Glances so you can easily and intuitively access data from anywhere on monday.com.
Functionality like this can take days to set up, but with Glances, you can be set up and ready to go with dozens of tools in less than an hour.
Glances takes their support seriously… if they don't have the Glances you NEED, be sure to let them know, and they'll work with you to make it happen.
Still curious? Click the button below to see Glances in action.

Watch Video
Keep spreading the word!
If you have questions about apps, wondering the best way to build a workflow, or have ideas for a topic you want to see covered in a future Digital Directive, feel free to share 'em with us!

Submit an idea
­
Have a friend that needs some digital direction? Share this link: https://www.carbonweb.co/digital-directive/?utm_source=digital-directive&utm_medium=referral