DD #38 – It's Time For Automation
Welcome back to the 38th edition of the Digital Directive!
In this action-packed issue, we're diving deep into the world of monday.com automations. From streamlining your daily tasks to turbocharging your team's productivity, we've handpicked the most powerful and practical automations tailored for specific business functions that'll enhance your workflow.
Curious about which automations can make a real difference for your specific business function?
Don't worry; we've got you covered. So, buckle up and get ready to embark on this exciting journey to unlock the full potential of monday.com automations, hand-picked for our favorite monday users!
By the end of this edition, you'll have the tools and knowledge to enhance your workflow like never before. Keep reading; you won't want to miss a single word.

Top 5 Practical Automations for Anyone, Anywhere!
As you venture into the realm of monday.com automations, you might be wondering where to start. Fret not! We've curated a list of five highly practical and versatile automations that will surely benefit anyone at anytime, anywhere, regardless of their industry or role.
These powerful automations are designed to streamline your daily tasks, enhance team collaboration, and boost overall productivity. So, without further ado, let's dive into these game-changing automations that'll elevate your workflow and help you work smarter, not harder!
Task assignment automation: "When an item is created, assign creator as owner."
Due date reminders: "When date arrives, notify someone."
Status change notifications: "When status changes to something, notify someone."
Recurring tasks: "Every time period, create an item."
Queued tasks: "When a status changes to something, move item to group."
These automation recipes can be easily set up within monday.com, and you can further customize them to fit your specific needs and requirements better. Just go to the "Automations Center" on your board, search for the relevant recipe, or build more advanced versions from scratch.
Save yourself some time – Try out the CarbonTO-DO Suite, which has advanced versions of these automations baked-in, and it's 100% free!
Click the button below to install it directly into your monday account for free today!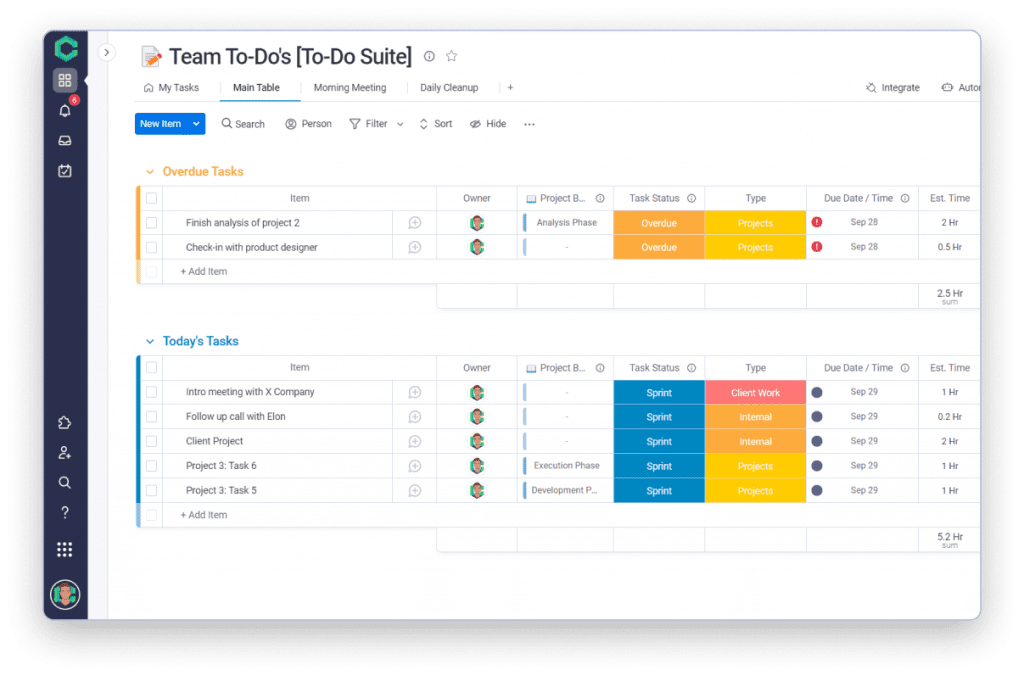 Supercharge Your Departments
Now that we've explored the top practical automations that any monday.com user can benefit from, it's time to dive into the realm of department-specific automation. These targeted automations are designed to address the unique challenges and needs of different departments, roles, and industries.
By leveraging these automation ideas, you'll not only streamline your team's workflow but also unlock unprecedented levels of efficiency and collaboration across your departments.
Sales and CRM:
a. When a lead's status changes to 'qualified', automatically create a new deal in the sales pipeline.
b. When a deal's status changes to 'won', notify the account manager and create a new client onboarding task.
c. Automatically send a follow-up email to leads with a specific tag after a set number of days.
Marketing:
a. When a content piece is approved, automatically schedule social media posts for promotion.
b. When a new campaign starts, create tasks for each team member based on their role.
c. Automatically assign blog post drafts to editors for review when their status changes to 'ready for review'.
Human Resources:
a. When a new employee is added to the onboarding board, automatically create tasks and assign them to the relevant team members.
b. Automatically send performance review reminders to managers and employees based on a preset schedule.
Product Development:
a. When a feature request's status changes to 'approved', create a new task in the development backlog.
b. When a development sprint starts, automatically assign tasks to developers based on their expertise and availability.
c. Automatically move completed tasks to a 'ready for QA' status and notify the QA team.
Customer Support:
a. When a new support ticket is created, automatically assign it to an available support agent.
b. Automatically escalate high-priority tickets to a manager if they remain unresolved after a set amount of time.
c. Send an automated follow-up email to customers when their support ticket is resolved, asking for feedback.
Finance:
a. When a new expense is submitted, automatically notify the finance team for approval.
b. Automatically update budget status and send a notification when a budget threshold is reached.
c. Create and send monthly financial reports to stakeholders based on monday.com data.
IT and DevOps:
a. When a new IT incident is reported, automatically create a task and assign it to the on-call engineer.
b. Automatically update the release calendar and notify stakeholders when a release is completed.
c. When a server's performance metrics reach a certain threshold, create a task for investigation.
Operations:
a. When a new order is received, automatically create tasks for inventory management, order processing, and shipping.
b. Automatically update the status of an order based on the completion of relevant tasks.
c. Send automated alerts to the operations team when inventory levels fall below a certain threshold.
Event Planning:
a. When an event is confirmed, automatically create tasks and assign them to the event planning team.
b. Automatically send event reminders to attendees and stakeholders based on a set schedule.
c. When an event task is completed, notify the event manager to track progress.
Research and Development:
a. When a new research project is initiated, create tasks for data collection, analysis, and reporting.
b. Automatically notify team members when research milestones are reached or deadlines are approaching.
c. When a research project is completed, compile and send a final report to stakeholders.
Sound like more work than you've got time for?
Don't worry; we're here to help! As a certified monday.com channel partner, our team of experts is ready to step in and build out customized workflows tailored to your specific needs.
We'll not only set up the perfect automated workflow but also provide ongoing support to ensure your success with monday.com.
­Get expert help building my workflow
­
Keep spreading the word!
If you have questions about apps, wondering the best way to build a workflow, or have ideas for a topic you want to see covered in a future Digital Directive, feel free to share 'em with us!
­
Have a friend that needs some digital direction? Share this link: https://www.carbonweb.co/digital-directive/?utm_source=digital-directive&utm_medium=referral