DD#3 – Get a New CRM System
In the third edition of the Digital Directive, we're talking about Customer Relationship Management. Why do you need a CRM System? When looking for a new customer relationship management system, what questions to ask yourself? Plus, outlining what to expect from a good CRM system?

Building relationships are the foundation of business, no matter the industry. Finding new prospects, turning them into leads, and building a rapport that speaks for you when you aren't there, are all necessary to create a flourishing business that generates recurring revenue and repeat customers.

Surely you understand this, and it likely contributes to your business's success. But, how are you managing these relationships? Do you have a team managing dozens, hundreds, or thousands of accounts?

Depending on the size of your business, you probably have a system in place to manage all this communication. Ideally, a portion of this system is automated and enables your team to process more information in less time resulting in a more significant ROI for your business.

Let's discuss what a good CRM can do for your business and what tools you should expect.
CarbonCRM, the C-R-M for Everyone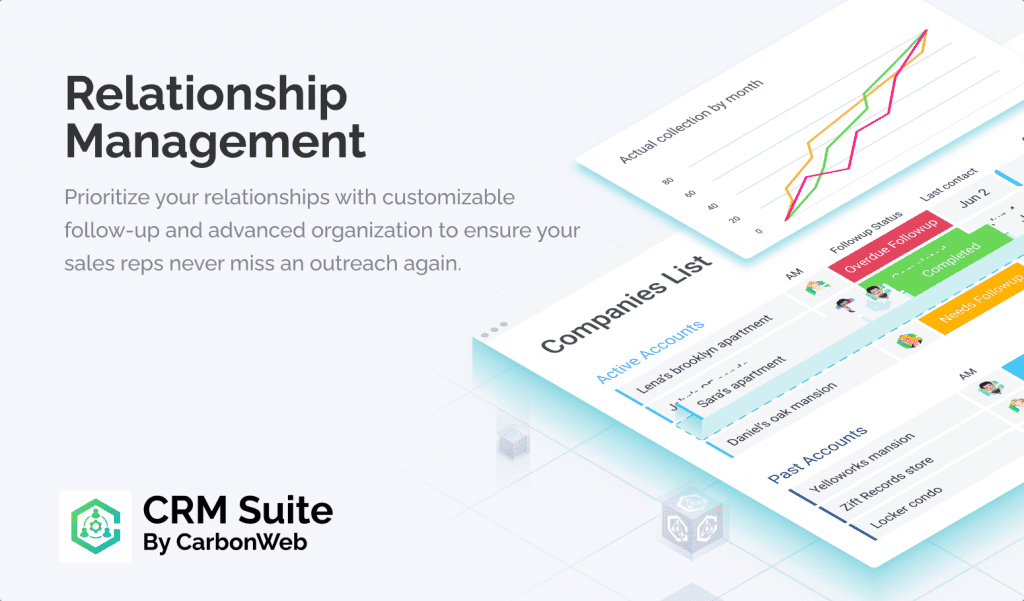 Some internal news we're excited to announce! First, thanks to those who inspired and have worked with us throughout the project!
The CarbonCRM Suite was released on the monday.com marketplace!
Since early 2021 when we became a monday.com partner, we've been working hard to understand both the needs of the users on monday.com already and those who haven't yet discovered it.

Throughout this time, we've been working to create what we see as the most essential business tool, a CRM. The CarbonCRM Suite is the culmination of a deep understanding of how businesses, new and old, seek to use monday.com to create their entire digital ecosystems, and a CRM is always the first place they seem to start. We're beyond excited to provide your business with the first of many digital building blocks.
-> Get a live demo of the CarbonCRM Suite
Good CRMs never fail. Great CRMs always work.
Confusing headline, I know. Hopefully, it got you thinking about something. Anyways, the bases of CRM (customer relationship management) is simply managing your relationships with customers, whatever your version of that might be, have you be it, clients, vendors, buyers, event attendees, prospects, projects, homeowners, or whatever else you can think of.

A great CRM is one that can scale with your business and accommodate you at any point in your business journey. There's no reason you should have to bounce between systems every time you scale your business or go through a transition of some kind.

An important factor that's often overlooked is employees' satisfaction with the systems in place to do their work. The BYOD market (bring your own device) is projected to hit $367 Billion in 2022. Companies have started to provide employees with an allowance of sorts to use and purchase technology and/or preferred devices for their workspace.

If your business tools or software were built in an environment where employees could plug in their preferred tech stack or create tools to enhance their workflow, wouldn't that be a win-win for everyone?

Thankfully it's possible…

Keep reading the blog, Customer Relationship Management: Why you need the right system.
7 Questions you should ask yourself
(When evaluating CRM or any software in general)
These questions are essential to determining your needs, qualifying your options, and gaining a holistic understanding of what you're about to get into. (Plus, it will make the solution-finding process far less stressful.)
­
1.) Is this a system my team will want to use?
­
2.) Can I onboard my team easily?
­
3.) Will I have to change my business process to fit this solution?
­
4.) Can I customize it? / How pre-structured is it?
­
5.) What are the costs vs. the benefits?
­
6.) How long will it take to implement?
­
7.) Do I have easy access to support?

Let's answer these questions together
What to look for in a CRM

Multi-Channel outreach –
Ability to connect outreach tools to communicate in various ways, such as dialing, email, SMS, and social media. Generally, these features can incur additional expenses, but emailing capabilities usually are included by default.

Connectability between sales + marketing teams –
Great revenue generators have excellent communication between their Sales and Marketing departments because that's how customers are found, created, and the reason they return. A CRM system that enables Marketing teams to connect with Sales is one way to ensure your business keeps leads flowing and continues generating revenue.

Built-in schedulers/appointment setting –
One of the most time-consuming and challenging parts of the customer life-cycle is the appointment setting and the tasks surrounding booking leads and filling a calendar. Your CRM needs to have integrated capabilities to use your booking tools and scheduling software or provide you the ability to build one out with automation.­

Workflow Automation
If you can not automate at least a portion of your CRM processes, how are you meant to increase the overall output of your business? Automating routine and recurring tasks is essential in any CRM if you want to see an ROI. The best CRMs enable custom automation to improve every aspect of your sales process.

Reporting / Analytics –
You should have access to all the KPIs you need and be able to see and create reports, build custom metrics, and get granular details on your CRM and Sales performance.

Invoicing & Billing –
Any CRM you use should have integration capabilities to connect to your preferred invoicing/billing software. Businesses often tend to lean toward these providers based on their industry, so any CRM you use should be accommodating.

Integration ability –
Businesses are complex and agile these days, requiring tools for many different aspects, and you must have the ability to integrate these tools to ensure efficiency and accuracy within your CRM and across your entire business.
­
Customizability –
Your CRM should be your CRM, meaning it should look, feel, and operate like your system, not the other way around. Being able to alter and customize your pipeline, process, and lead flow should be a default feature of any CRM.
Outline your CRM workflow!
Here's our simple tutorial on outlining workflows for any business.