DD #45 – Building Useful Dashboards with monday
Welcome to the 45th Edition of the Digital Directive, where we're diving into the power of monday's dashboards!
Dashboards in monday are an incredibly potent tool for gathering insights, monitoring key metrics, and keeping your teams aligned, so ensuring you have a good understanding of them is imperative.
As certified monday channel partners, we've built 1000s of dashboards for a variety of use cases, but one thing rings true throughout, EVERYONE wants more insight – and that's exactly what dashboards do best.
Before we jump in, did you hear about monday's database upgrades? mondayDB 1.0 is being rolled out across accounts as we speak. What's that mean for you? Faster loading for big boards, seamless board navigation, and less jitters! Read more about mondayDB 1.0 here ->
Now let's dive into creating powerful, insightful dashboards.

Harnessing the Power of Dashboards for Efficiency and Clarity
Dashboards on monday serve as a centralized command center, providing a consolidated view of multiple boards and projects. They are designed to aggregate data, helping users to visualize complex information and make informed decisions based on real-time updates.
Imagine being able to glance at your screen and instantly understand the status of all your tasks, see who's working on what, and track deadlines all in one place. Sounds fantastic, right? Well, with dashboards, this is possible! Who am I kidding? You already know this, right?
The key to unlocking the full potential of dashboards lies in understanding your organization's specific needs and tailoring your dashboards accordingly. By selecting the right mix of widgets and organizing them strategically, you can ensure that your dashboard becomes a hub of critical insights and a real game-changer in how your team operates. Now, let's delve deeper into the world of widgets at your fingertips (or mouse click.)

The World of Widgets that Enhance your Dashboards
Think about how useful widgets are on your phone… same goes for monday dashboards. There's a plethora of widgets available in the widget center, here are some we know you'll love.
Battery Widget: This widget helps track progress on tasks, displaying the status of items from one or more boards, giving you an intuitive visualization of progress.


Table Widget: Display data from one or more boards in a table format for easy viewing and access, allowing you to make live changes to data instantly.


Chart Widget: This widget lets you visualize data from your boards in a variety of ways – Pie, Bar, or Line charts plus add benchmarks and other visual aids.


Numbers Widget: Use this to display key numerical data like total sales, average customer rating, budgets, and any other number or count in your workflow.


Workload Widget: This widget allows you to see how much work each team member has on their plate, promoting balanced work distribution.


(BONUS) Funnel Widget: The funnel widget exclusive to monday sales CRM, visualizes the progression of items throughout your system. This can be used across your Work OS once you have monday sales CRM.


Need help building your ideal dashboard? We've got you covered – Click the button below to get started!

Real-World Examples of Impactful Dashboard Utilization
To truly understand the value and versatility of dashboards, it's beneficial to see them in action. Let's take a look at three practical examples of how different types of organizations can use dashboards effectively:
Project Management Agency: A PM agency can use dashboards to monitor all their client projects simultaneously. Widgets like the Timeline, Workload, and Chart can provide an at-a-glance view of project status, team workload, and key metrics. This helps managers to identify bottlenecks, balance resources, and ensure timely delivery of projects.


Marketing Team: For a marketing team, dashboards can provide a clear overview of campaign performance. With the Battery widget, you can track progress on individual tasks or overall campaigns. The Numbers widget can display key performance indicators like conversion rates, impressions, and click-through rates. Use a Pie Chart widget to visually break down campaign reach by demographic or region.


HR Department: An HR team can use dashboards to keep tabs on recruitment and employee engagement. The Table and Files widgets can provide a quick overview of all open positions and candidate resumes. A Calendar widget can keep track of interview schedules, while a Llama Farm widget can provide a fun visualization of employee satisfaction surveys.


All of CarbonWeb Solutions come stocked with powerful dashboards that we customize alongside you. Learn more about our end-to-end solutions on the CarbonWeb App Network!


What's that TV on the wall for again?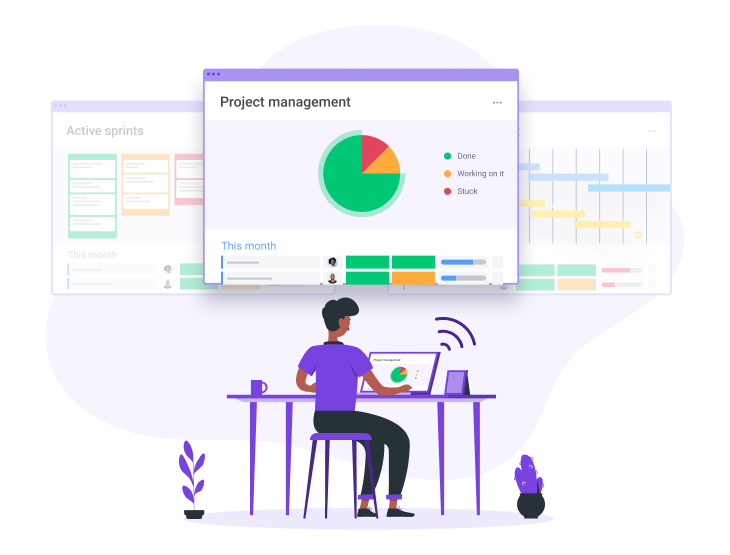 Is there a TV screen hanging on your office wall, often going unused? Imagine if you could transform it into a powerful productivity tool that keeps everyone on your team connected and informed.
Introducing DashBoards, an innovative solution designed to breathe life into your stagnant smart TV. With DashBoards, you can create a dynamic, automated carousel of unlimited boards, dashboards, and other embeddable links. These can all be casted directly to your TV, transforming it into a vibrant hub of information and collaboration.
Say goodbye to your idle TV and hello to a world of amplified productivity and enhanced collaboration with DashBoards. Stay tuned for more details about how to get started!
­
Keep spreading the word!
If you have questions about apps, wondering the best way to build a workflow, or have ideas for a topic you want to see covered in a future Digital Directive, feel free to share 'em with us!
­
Have a friend that needs some digital direction? Share this link: https://www.carbonweb.co/digital-directive/?utm_source=digital-directive&utm_medium=referral