DD #46 – Boost Team Efficiency with Subitems
Welcome to the 46th Edition of the Digital Directive! Hopefully, you didn't miss us too much yesterday.
For our readers in the United States, we trust you had a meaningful Memorial Day, a time to reflect and honor those who've made the ultimate sacrifice for our country. For those joining us from elsewhere, yesterday was a federal holiday in the U.S. dedicated to honoring and mourning military personnel who have died in the performance of their military duties.
Today, we dive deep into the transformative power of Subitems in monday, one of the most potent yet underutilized features of this versatile platform. As certified monday channel partners, we're here to show you the ropes and ensure you have the knowledge and understanding to implement the tips and tricks we share with you.

The Magic of monday's Subitems
Subitems are an incredible feature within monday, designed to break down complex tasks into manageable, bite-sized pieces. By incorporating Subitems into your workflow, you can bring a new level of clarity and structure to your projects while keeping all necessary information and communication under one roof. Here's how: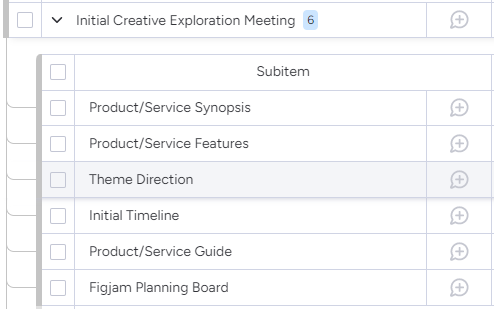 Enhanced organization: By breaking down tasks into smaller steps, Subitems keep complex tasks manageable and navigable.
Improved focus: Subitems enable your team to zero in on specific aspects of a task, preventing overwhelm and boosting productivity.
Clearer communication: By housing all related information and updates in one place, Subitems facilitate smoother collaboration and communication within your team.

Unlocking the Potential of Subitems
To make the most out of using subitems, they need to be a forethought when building your process, not an afterthought. With that in mind, consider these best practices when integrating subitems into your workflows.
Use Subitems to create task checklists: By breaking tasks into Subitems, you ensure nothing falls through the cracks. Each task can be ticked off as it's completed, giving you a clear picture of progress.

Expanding on this, you could have a board that stores the general steps of a project, with specific tasks underneath them. From here, you could have automation set up that moves the items to your task board the day you need to complete it, keeping your process moving at all times. This is what we do at CarbonWeb, thanks to preset project templates that have dozens of items with dozens of additional subitems!


Utilize the "Mirror Column" feature: This feature allows you to display Subitems' data on the main item, making it easier to get a snapshot of where things stand.

Taking this further, if you're looking to integrate subitems into an existing process, you may want to bring some top-level columns to the subitems. You can easily copy-paste columns when you click the add new column button on subitems. We use subitems to track the time spent on specific tasks related to a single design project. By doing this, we have a high-level summary and a sub-itemized list of the tasks.


Set up automations and integrations for Subitems: Streamline your workflow further by setting up automations and integrations specifically for Subitems. This can save a significant amount of time and manual effort.


This is only the starting point; when you start using subitems, you'll begin to realize how many different instances in your workflows could benefit from using them.
An important note: Sometimes, people will try to use subitems in places where they should really be making an entirely new board, don't get caught trying to bake two different workflows, or two processes into one board. In the end, this will overcomplicate your workflow, confuse people less familiar with the process, and make training new staff more challenging as the process will be far less intuitive.
Read more about subitems from monday.com's knowledge base ->

Practical Use Cases for Subitems
Let's explore some ways you could start implementing subitems into your workflow:
Marketing Campaigns: Subitems can be used to break down each campaign initiative into individual tasks such as content creation, design, approvals, and more, thereby bringing clarity to the overall workflow.


Product Development: With Subitems, you can organize the product development process into clear phases, including ideation, design, development, testing, and launch. Each stage is transparent, trackable, and manageable with its own subitems.


Event Planning: Large events involve numerous moving parts, including venue selection, catering, guest list management, and promotional efforts. Each of these "parts" could have its own list of subitems, creating a far more detail-oriented process.
Understanding and leveraging the might of Subitems may appear daunting initially. However, improving your team's productivity is closer than you think. As your monday.com channel partner, we're here to help. Reach out to us anytime, and let's get the most out of Subitems together!
Keep spreading the word!
If you have questions about apps, wondering the best way to build a workflow, or have ideas for a topic you want to see covered in a future Digital Directive, feel free to share 'em with us!
­Submit an idea
­
Have a friend that needs some digital direction? Share this link: https://www.carbonweb.co/digital-directive/?utm_source=digital-directive&utm_medium=referral